Fish is one of my favorite proteins if for no other reason than I feel healthy when I'm eating it. Rarely do I come to the end of a meal where fish has reigned and wish I had not eaten it. The Northwest is known for quality seafood and we often have salmon on our table, but it's less often that we indulge in another favorite of mine, halibut. The main reason is that it is rather pricey, more so than salmon, even as close to Alaska as we are here in the Seattle area. 
Halibut's meaty yet tender texture is so delicious to me. I love it with a white wine butter sauce, or grilled to put in fish tacos, but when I saw this recipe for Halibut Skewers in the January issue of Sunset Magazine, I knew it would be a winner. It is a fish that can stand up to both skewering and grilling. 
First of all ... it's halibut. Then it's rosemary and olive oil. Intertwine all of that goodness with some ciabatta and prosciutto and you had me at "Hello". 
And grilled? Yes, please. Preferably outdoors, but on a short winter's day, an indoor substitute can be tolerated.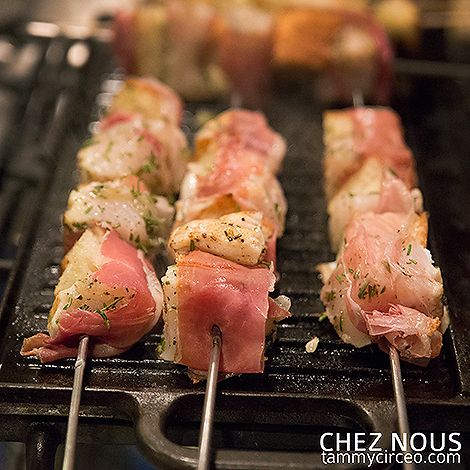 I sautéed some asparagus spears and made a carrot salad which made for a colorful dinner plate, no?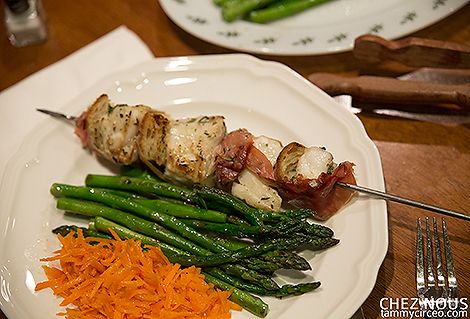 [This could easily be made gluten-free by substituting a gluten-free baguette or ciabatta. Udi's is a good brand if you don't have a bakery close by that makes gluten-free breads.]
Bon Appétit!