My weekend started early last Friday with suitcase packing ... we were flying to Idaho to see our boy. The airport was blur of blue and green, helmets and footballs ... total support of the Hawks! So cool to be in a city that has a Super Bowl team!
Seems Ben was just here for Christmas and on the other hand, it seems like forever since we've seen him. Kind of a strange phenomenon in the heart of a mom.
We watched the team work out a bit on a frigid field and then gratefully moved indoors to watch him take batting practice in the indoor facility.
To me, it looks like he has a lower stance this year, but he says it's just a wider one.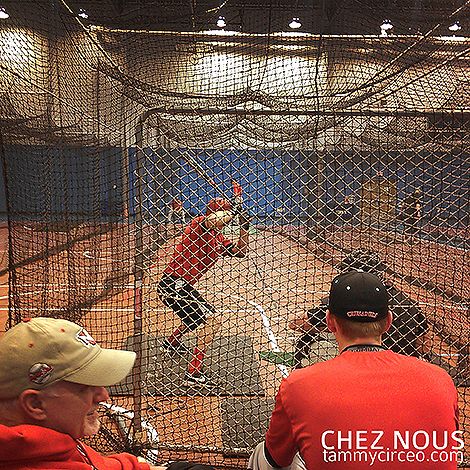 As long as he hits, that's all that matters, right? And with that form ... I'd say he has a pretty good chance of success this season. It starts next weekend ... in Hawaii! Oh the life of a college athlete ...
You might think of baseball as being a summer sport ... but in our Pacific Northwest, it is often accompanied by an ice scraper, gloves, and hoods that nearly cover your face. If a ballplayer can't make it happen in those conditions, then he sure has no chance on a 70+degree field with warm breezes and sunshine!
We took Ben, Alyssa, and Samantha (sisters that he went to high school with) to Cracker Barrel for breakfast. If you are in college and get up early on a Saturday, then Cracker Barrel is a good reason. That ... and being entertained by Mom-C and Pop-C!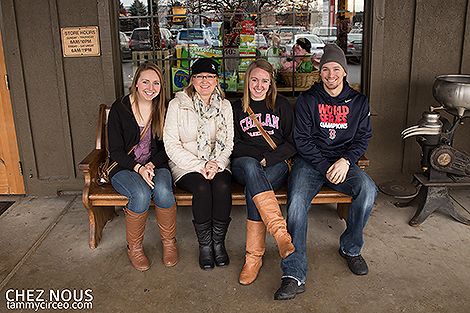 When you're in college, you focus on classes, extracurriculars, and food ... and most likely, the opposite sex, if we're being completely honest. If you have a car, Dad is always on your back to check the oil and make sure the alignment is ok. Because he's probably paying for the above, right?
Ben's classes are great, baseball is great, food in the dining hall is never like Mom's, and girls? Well, there's always girls to flirt with. Which leaves Ben's car ... He and Ken washed it, we bought wiper fluid, de-icer for the windows, dash wipes, and oil for him, then filled his tank. And a gallon of milk that will be gone in 3 days time. It doesn't matter to me how old my kids are, it always feels good to provide things they need or perhaps things they only wish for.
Speaking of which ... I swear that kid of mine has empty spaces in his body that no one else does. We treated him to a wonderful dinner at Brick 29 Bistro, whose chef is James Beard nominated and making quite a name for himself. This was the second time we've eaten there and again, none of the three of us had a complaint.
We flew home early Sunday morning and enjoyed watching the Super Bowl later in the afternoon with friends. Oh my goodness ... none of us expected THAT start to a game and we would never have believed that a score of 43-8 was in Seahawk future. Peyton Manning has an amazing legacy and since most of my family (AKA known as brothers and dad) was pulling for the Broncos (because of Peyton ... TN born and bred), I didn't feel much love from them. :/ But the Skittles were out and we rallied for the hometown team ..
First ever in franchise history! Even if you're not a fan, that fact is something to acknowledge and cheer. Yes! 3 Cheers for the Hawks!
The 12th man has respect 'round these parts ... I love how the team and Coach Caroll consistently brings the fans into the victories. Even tonight as they got off the plane, the first thing off was the "12" flag  ...
Go Hawks!!
Here's to a celebratory week in the great Pacific Northwest.