Having grown up in France, I have eaten a fair amount of quiche, but my adaptation of Dorie Greenspan's recipe is one of my favorites. The crust is amazing, for one thing ... it is flaky and delicious, but be sure to allow enough time to chill and prebake it. I like to keep some circles of dough in the freezer just to be ready when I have a quiche craving.
The filling is flavorful with the bacon, onions, and garlic rounding out the spinach. The only cheese is a little parmesan on top. I add an egg and little more cream to the original recipe and I love a fresh grating of nutmeg as well.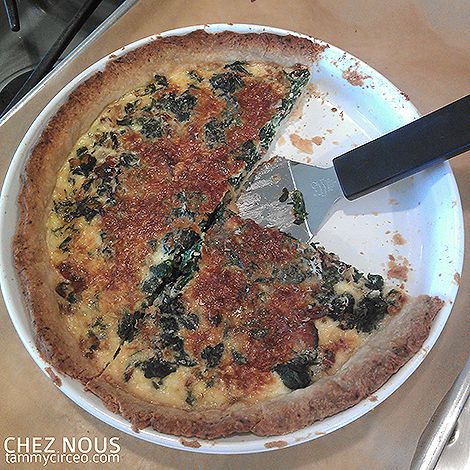 Quiche makes a wonderful dinner, of course, with a glass of crisp Chardonnay and a green salad or my favorite, a carrot salad. However, I love having the leftovers for breakfast accompanied by a latte. Mmm ... good.
(For the French Fridays group, we don't publish the recipes, but since we first wrote about this one almost two years ago, since I've adapted it, and since it is not French Fridays today, I'm taking the liberty to share my adaptation with you.)