I haven't posted a recipe for such a long time that I almost forgot how! Let's see if I can make this happen ...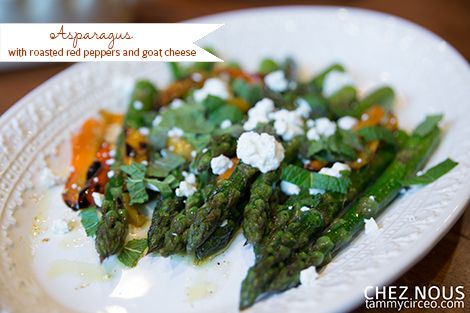 I love having Ben home for many reasons, but I so enjoy time in the kitchen with him. He learns quickly and likes to experiment with flavors, foods, and methods. He sautéed asparagus for Mother's Day, but it got too soft because we were giving immense amounts of attention to Matthew. We tried again last night, adapting a recipe we picked up at the grocery store. The original recipe called for oven-roasting, but with the unusually warm temperatures this week, we decided to sauté it on the stove top. The red peppers can be store-bought, but I had some fresh ones in the fridge so I tossed them on the grill. 
I figured the red pepper and goat cheese would be delicious with asparagus, but I was unprepared for how delicious the sprinkle of fresh mint —from my herb garden— would taste with it. Seriously, it sounds weird, but it was awesome! If you want, you could add a sprinkle of toasted nuts, too.
We served the asparagus with a grilled flank steak and grill-roasted red potatoes (for the meat and potato lovers at the table!). Delicious!
Bon Appétit!