Shouldn't this recipe fall more in a Mexican Monday category?  
Dorie says that guacamole is becoming more standard fare in Paris these days, but they use it in decidedly French ways ... like making it into a tartine (an open-faced sandwich) topped with baby shrimp, or paired with smoked salmon. That sounds delicious, right? 
I am a guacamole purist. I like mashed avocado with tiny, cubed cucumber mixed in, lime juice and a little salt. When I read Dorie's list of ingredients ... red pepper, purple onion, jalapeno, lime zest, tomatoes, hot sauce ... I wanted to be the rebel and make my own lovely guac, but I decided to play nice. Of course, I really enjoyed it and it was wonderful with pork carnitas ... and baked blue corn chips.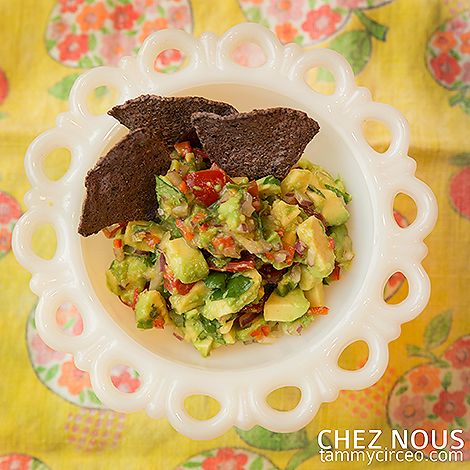 (If you're new around here or are wondering what French Fridays with Dorie is ... It's an effort to use one of Dorie's recipes from her cookbook Around My French Table each week. The recipes are decided on by popular vote on the website French Fridays with Dorie. Purchase your book HERE and play along! According to the rules of the group, I'm not allowed to post the actual recipe ... mes regrets.)