I could make a complete meal of P. F. Chang's Lettuce Wraps. When eating out and ordering appetizers, it is expected that one will share with fellow diners, but these wraps tempt me to revert to my two-year-old non-sharing self!
Several recipes claiming to mimic the Lettuce Wraps have floated through cyberspace, but this is the first one I've tried. And I need look no further. Ken, Aly, and I agreed that the flavor was spot on and we were amply filled ... and made a complete meal of the wraps!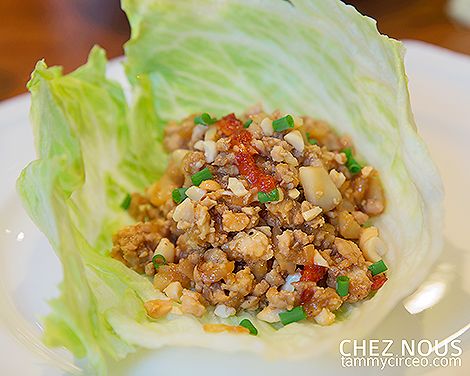 Changes I made to the found recipe: 
I doubled the recipe because I had to share with Ken and Aly. 
I used half dark meat and half white.
I eliminated the honey. 
I used gluten-free tamari sauce instead of soy sauce.
I used homemade peanut butter. (I'll show you how in tomorrow's post and you'll never spend all that money on a jar of peanut butter again!) 
The downloadable recipe includes all my changes, but you can click on the word "this" in the paragraph before the photo to see the found recipe if you don't like my tweaks.
Bon Appétit!