You didn't think I would tell you about that awesome Celery Salad with Peanuts and not also tell you about the Spicy Thai Flank Steak I made with it, did you? That would cruel and unjust punishment. 
The marinade calls for sambal oelek, which is an Asian chile sauce and you should be able to find it in the ethnic foods aisle of most grocery stores. You will also find fish sauce there. Don't let "fish sauce" scare you ... it's harmless and does not in any way contribute a fishy flavor. It is the salty component to the marinade, and if you would rather use salt, I'm sure your steak will be tasty. The other ingredients are basil, cilantro, lemon and lime zests, and garlic. 
I found it easiest to put it all in a mini food processor and whir it around ...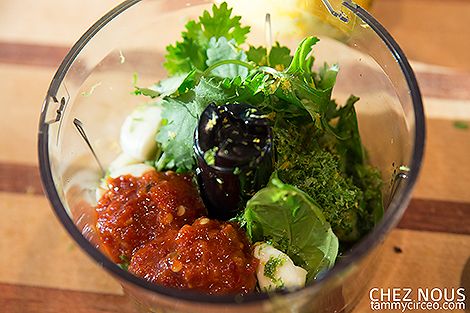 ... then add some oil and whir it again. I use avocado oil because there's no real flavor to it and it can withstand high temperatures.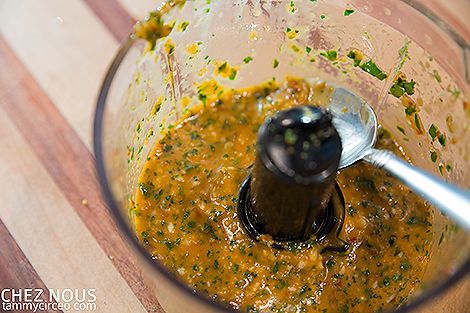 Marinate the meat for 30 minutes at room temperature or overnight in the fridge. Just bring it back to room temperature before grilling so that it cooks more consistently. 
This photo is more of the celery salad than of the steak, but I think you get the idea, right? My flank steak had been in the freezer, so I quick thawed it in salted cold water. Not only does it thaw quickly, but it also tenderizes the meat. The salt thaw and the marinade combination yielded a very tender steak ... and one that I think you should make soon. With the Celery Salad.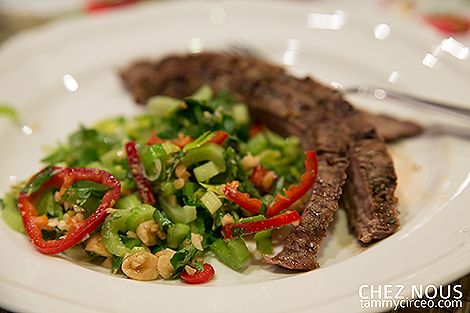 Bon Appétit!