This week has completely gotten away from me. We traveled last weekend to New Hampshire to visit Ken's parents and extended family. I've spent this week getting back into my regular routine of teaching piano lessons, grocery shopping, laundry, teaching piano, editing photos, writing posts ... I live a wild and crazy life, I tell ya.
Osso Buco is something I've wanted to make for a long time. It is decidedly Italian, but Dorie felt justified in including it in her French cookbook because she got the recipe from the late French artist Arman. Osso Buco literally translated means "bone with a hole" and is traditionally made with veal shanks which gives pause to some for conservational reasons in both the animal rights' arena as well as the financial one. Some in our cooking group substituted beef shanks, lamb shanks, and one even used rabbit!
Osso Buco is a cozy braised dish that will fill your home with amazing fragrances. Onions, garlic, fresh thyme ...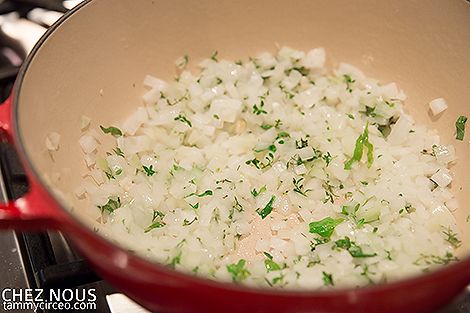 ... tomatoes, chicken bouillon ... I know the French love the bouillon cube, but I haven't found a brand that doesn't have a ton of unnecessary ingredients in it. I found a Classic Roasted Chicken Stock Glace that listed real ingredients, but then totally forgot to add it to the pot!
For the first time in my life, I chose the veal. I tied the shanks to keep the meat close to the bone.
The whole dish is braised for about 2 hours till the meat is fork tender ... literally falls off the bone.
I made Celery Root Puree (P. 354) to go with it and the Orange Basil Gremolata was the perfect hit of fresh needed on top of this comforting dish.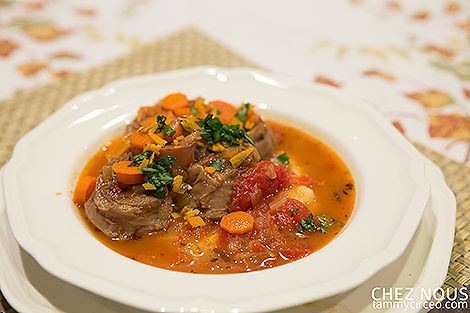 (If you're new around here or are wondering what French Fridays with Dorie is ... It's an effort to use one of Dorie's recipes from her cookbook Around My French Table each week. The recipes are decided on by popular vote on the website French Fridays with Dorie. Purchase your book HERE and play along! According to the rules of the group, I'm not allowed to post the actual recipe ... mes regrets.