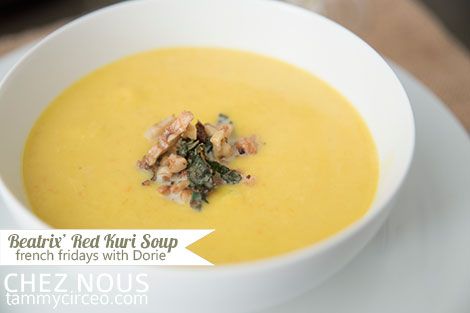 After spending a day in the cold and rain at the Museum of Flight a couple of weeks ago, we were more than ready for something warm for dinner. My Emily had already planned to make this soup before she knew it was on the French Fridays' schedule so I conveniently brought my camera along for the meal!
Red Kuri squash is the same as the French call potimarron. The poti comes from potiron, French for pumpkin, and marron from the French word for chestnut. Amazingly, it can be cooked and eaten with the skin on. For this very simple soup, the potimarron and leeks are cooked in milk and water till they are tender.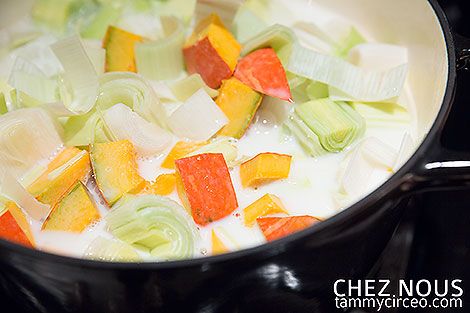 Once tender, they are pureed and Emily found that her immersion blender did a fine job.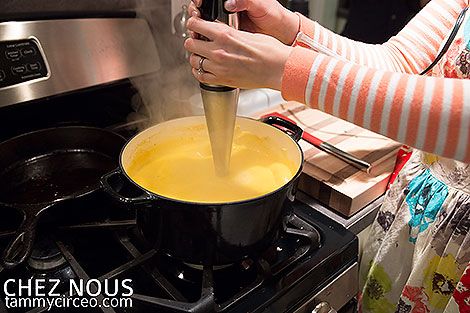 Dorie recommended putting some diced apples in the bottom of the bowl...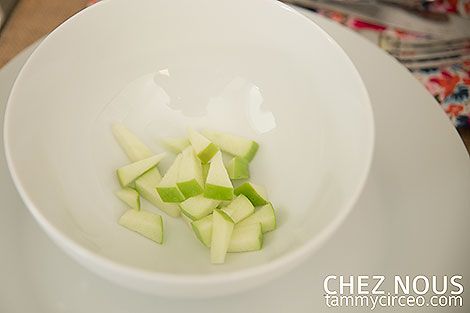 ... and topping it with some toasted walnuts and sage in butter ...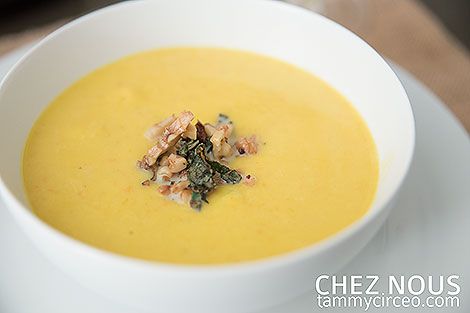 That recommendation was spot on. For a soup with only four ingredents, it tasted like a five-star first course! We made it a meal with some bratwurst from Uli's at the Market. Fabulous Sunday Supper, I must say. And then for Thanksgiving, we made it again to accompany our appetizers. It really is such a versatile soup!
Bon Appétit!
(If you're new around here or are wondering what French Fridays with Dorie is ... It's an effort to use one of Dorie's recipes from her cookbook Around My French Table each week. The recipes are decided on by popular vote on the website French Fridays with Dorie. Purchase your book HERE and play along! According to the rules of the group, I'm not allowed to post the actual recipe ... mes regrets.