Croquants. They are what the pronunciation of the word sounds like. Crackly. And in English, we'd probably call them just that ... Cracklies.
They are made of coarsely chopped nuts, sugar, egg whites, and a little flour. So easy ... and with a a crackly result.
Alice made them when we shared my kitchen a week ago, but because we had so many dishes going and I was busy making eclairs, I neglected to tell her my "flour thing".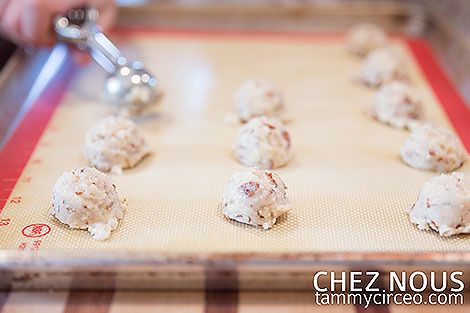 My "flour thing" is that I always bake with spelt flour because one of our children is allergic to wheat, but can tolerate spelt. Spelt contains gluten and therefore is not tolerated by celiacs or those avoiding gluten. It gives satisfactory baking results, but because it is softer than all-purpose flour, I have found that I typically need to add 1/2 as much more spelt flour than the all-purpose flour called for. All of this is information I neglected to give Alice as she mixed them up so the recipe turned out a little flatter than Dorie intended.
So I mixed up another batch this week adding another 1/4 cup of flour to the 1/2 cup + 1 Tablespoon already called for. They didn't flatten as much and both batches were superbly tasty.  
They would be such a lovely choice to package up for neighbors at the holidays, to serve to spontaneous guests because they stir up and bake so quickly, and to serve with tall glasses of milk after school while listening to the events of your child's day. Just make them. They are easy and worth it.
Bon Appétit!
(If you're new around here or are wondering what French Fridays with Dorie is ... It's an effort to use one of Dorie's recipes from her cookbook Around My French Table each week. The recipes are decided on by popular vote on the website French Fridays with Dorie. Purchase your book HERE and play along! Find what others thought of this recipe HERE.)