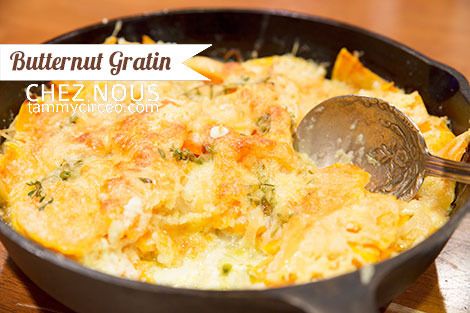 It was rainy afternoon and I was on a mission at the bookstore. Invariably, I ended up in the cookbook section, lost in the possibility of so many kitchen adventures. As you can imagine, I'm drawn to French cookbooks and Mimi Thorisson's is no exception. Her beautiful book A Kitchen in France leaves me longing again for a little house in the French countryside where we cook exclusively according to the seasons, have long meals with much conversation, and ride bikes on country lanes.
As I turned the pages of her book lost in daydreaming, this simple gratin convinced me to purchase it, buy a butternut squash and New York Strips for our dinner. I altered the recipe slightly and give all credit for this divine gratin to Mme. Thorisson.
Sliced onions and garlic are first cooked in butter ...
Then the butternut squash is peeled, halved, and sliced thinly ...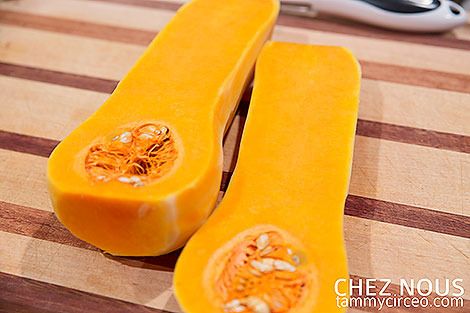 ... and cooked with the onions and garlic, then seasoned with freshly grated nutmeg, salt, and pepper. I added fresh thyme sprigs to the recipe ... because it's delicious.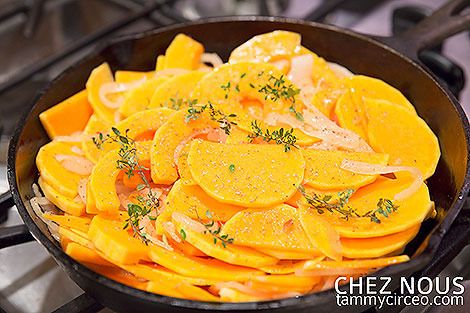 You can use a separate baking pan if you wish, but I conserve and use the same cast-iron skillet as my baking dish. Pour a little cream over it all, top it with bread crumbs and cheese, and bake it for about 30 minutes. I like to bake gratins about 45 minutes because that crispy, golden cheese is irresistible.
From the stovetop, to the oven, and straight to the table, a gratin is the perfect accompaniment to steaks or roasted chicken. Make it tonight!
Bon Appétit! Et merci, Mimi!
NOTE: Consider making gratins with all manner of squash, potatoes, and even cauliflower or broccoli.