Tartare ... every time I hear the word, I want Emily to tell her tartare story. Sometimes she indulges me and today is one of those times. Here's her story in her words:
Okay, so here's the most embarrassing story of my life, which I've been mostly cornered into telling.
My mom took me to Paris right after I graduated high school, and it was absolutely a dream come true. I was in heaven and swore I'd never leave. We got to check out some great little cafes and brasseries, and one night decided to visit a well-established, fancy schmancy restaurant on Place de Bastille, around the corner from the apartment where we were staying. It was meant to be our one big dinner splurge for the trip.
We got there and I think had three different penguin suit-clad Frenchmen who took their jobs very seriously take their turns showing us to our table (which happened to be in between a family with eight year old wine-drinkers and a couple from Mount Vernon, but that's neither here nor there).
On the appropriately limited menu I made out a fish dish, a duck dish, and a steak dish. Fish sounded a little too fishy, duck sounded a little too ducky, but steak…one more plate of steak frites sounded just about right. Small difference from the other steak frites I'd ordered that week: this was called Steak Tartare et Frites. But it said "steak" and "frites" so I figured the tartare part was a fancy restaurant just being fancy. So order it, I did.
About ten minutes later, Mom discreetly leaned forward with her eyes as big as saucers and half-whispered, "Em…I just had a terrible thought…is tartare raw?"
"Raw? No! Mom, raw beef? No way."
"Em…I think it's raw."
This is when I began to believe that she was pulling my leg.
"Mom, that's ridiculous, they would never serve raw steak! That's disgusting. It says 'steak' and 'frites,' it's just steak frites."
"Okay…what do you want to do if they bring it out and it's raw?"
"Mom, it's not going to be raw!"
"But what if it is?"
"Okay, let's just cross that bridge when we get there."
"Okay…"
The waiters bring out the plates with a flourish. Mom's first, then mine. And on my plate is a raw hamburger patty.
I DIED. DIED DEAD. RIGHT THERE, RIGHT THEN, DEAD.
The waiters went about their business. I continued dying. Mom laughed.
"Do you want to try it? Just see if you like it?"
I threw up in my mouth a little.
"Okay, I'll fix it."
My fluent-in-French mother called our waiter over. Now, my French is terrible when I try to speak, but I can understand it pretty darn well. In French, the conversation went something like this:
"Excuse me sir, I'm so so sorry to bother you [you have to say such things to fancy French waiters], but she didn't understand that tartare is raw—"
"But tartare is always raw!"
"Yes, I understand that, but she didn't." I sit agape. My mother had never thrown me under the bus before. "So, we will pay for this meal, but could she order something else?"
The waiter was clearly horrified (as was I! How could she do this to me?!), but gallantly trying to cover his shock. He'd never heard of someone not knowing that tartare is raw, and I doubt he'd ever had someone complain about his food before.
He offered to take my tartare and turn it into a cooked tartare.
BRILLIANT. A COOKED HAMBURGER. WHAT A NOVEL IDEA, WHY HADN'T SOMEONE THOUGHT OF THAT BEFORE?
Twenty minutes later he returned with a beautifully browned "tartare," which I thanked him profusely for with my very best French (which he responded to in English…which basically means my very best French was very much not good enough.) As I cut into it, I realized it was still. freaking. raw. It took them twenty minutes to slap it on the grill, immediately flip it over, and pop it back on the plate.
So I did what any mature, starving human being would do. I scraped off the cooked bits, mushed up the raw bits with some fries, and shoved some salad on top so that it was absolutely impossible for the fancy French waiters to know that I hadn't actually eaten anything at all. Fool proof.
Moments later the fancy French waiter popped up at our table about four inches from my face, effectively scaring me out of any appetite I'd retained, as well as eliciting a squeal, saying, "You do not like our food?"
This was the moment I realized that there were at least four other waiters nearby LAUGHING THEIR LITTLE FRENCH WAITER HEADS OFF.
This, friends, is how my mother and I teamed up to make a complete fool of me. I like to think that those fancy French waiters don't sit around and tell that story occasionally after they get off work and are having a glass of something or other at the bar, but I somehow am not sure that's the case…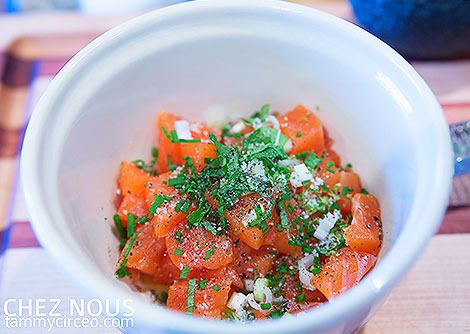 Isn't that the BEST story!? I die every time. I don't blame Em for not eating the steak tartare. I couldn't do it myself! And it confounds me as to why I can eat raw fish, oysters, or sushi... it just doesn't make sense to me. At any rate, I was thankful that Dorie's cookbook included Salmon Tartare rather than Steak Tartare!
Of course, here in the Pacific Northwest, we are fortunate to get beautiful wild salmon and that is certainly what you want. Farmed Atlantic or frozen salmon would never do.
Mix the cubed salmon with chives, scallions, mint, olive oil, lime zest, and salt and pepper, then slice the grape tomatoes and mix them in a separate bowl with chives, mint, olive oil, and salt and pepper.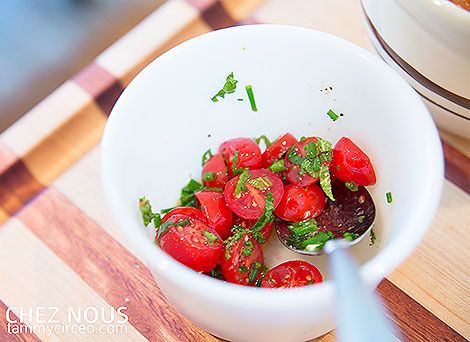 Just before serving, cut the avocado, mix it with lime juice and zest, mint, a little hot sauce splash, salt and pepper. And then you're ready to assemble it by layering the avocado, salmon, and tomatoes either in a pancake ring, or a glass or bowl.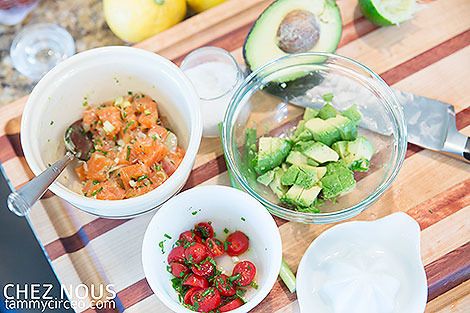 I feel if you're using a dish that it should be clear so you can see all the lovely colors. Dorie suggests a few drops of pistachio oil on top, but I left it off because I couldn't find any in the store.
MY tartare story ends much less humorously than Emily's, but, in my opinion, with a much more palatable result!
(If you're new around here or are wondering what French Fridays with Dorie is ... It's an effort to use one of Dorie's recipes from her cookbook Around My French Table each week. The recipes are decided on by popular vote on the website French Fridays with Dorie. Purchase your book HERE and play along! Find what others thought of this recipe HERE.)