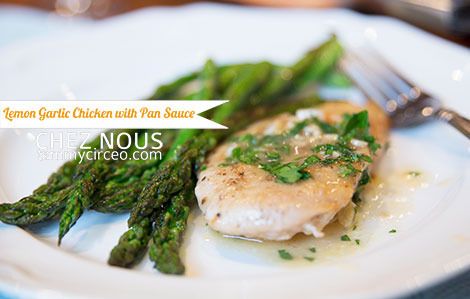 I was recently asked to participate with a group of fellow food and wine lovers to explore French wines and how they pair with food. Of course, my reaction was, "Heckyeah!" Because not only do I like France, but I like wine. And food. They call themselves "The French Winophiles" ... I guess WE call ourselves ...
The goal is to learn more about French wines. We're starting with the regions, then will move on to the appellations. That totally makes me sound like I know what I'm talking about when it comes to French wines (or wine at all!) and although I DO know a little, I sure don't know enough! I'm just parroting the group's statement ... So, here we go on another culinary adventure.
Each month, we'll post about a wine (or more) and what we paired it (them) with. I decided to keep it simple with this inaugural post although the truth is that I might always keep it simple because simple is the way to go! I chose to do a quick chicken dish with a pan sauce and a Sauvignon Blanc from the Loire Valley. This dish is Lemon Garlic Chicken with a Pan Sauce. The chicken is seasoned, then dredged in flour, and quickly sautéed. A bit of butter is then added to the pan, the garlic is softened, then the pan is deglazed with lemon juice and white wine, and the rest of the butter is added and stirred into the reduction. Be sure to use the same wine as you'll drink with it! 
This is the epitome of French fast food and can be easily made on a weeknight, but it tastes like 5-star restaurant fare.
Download Lemon Garlic Chicken with Pan Sauce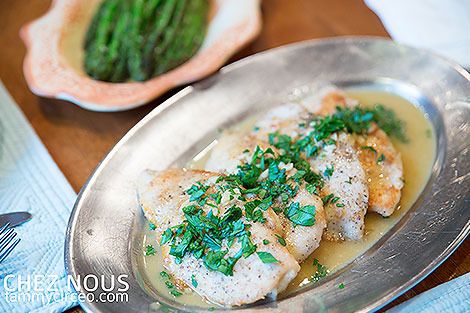 I paired it with an equally simple Sauvignon Blanc by Oisly & Thesee. It's a crisp white that went very well with the lemon and garlic in the chicken recipe and the sauteed asparagus. I have to be honest ... I love higher end wines, but I can usually be completely satisfied with wines that are most cost-acceptable. This one retailed at about $12, but I got it on sale for $6.99 ... I might end up being known as the Frugal Wine Consumer of this group. :)
I took this photo including the flowers and sunglasses because this wine is totally worthy of sunshine and warm evenings on the patio with Lemon Garlic Chicken!
To see what others are pairing and sharing, click through to their blogs:
Martin from Enofylz Wine Blog shares "Tale Of A Crémant de Loire Brut Rose At The Table"
Jeff from from foodwineclick indulges in "Saint-Jacques Poêlées & Sancerre"
Sarah from Curious Cuisiniere brings us "Grilled Salmon with Beurre Blanc and Loire Valley Muscadet"
Wendy from A Day in the Life on a Farm tempts us with "Vouvray Poached Pineapple with Rosemary Whipped Cream featuring Bardon and Guestier aka CIC meets French Winophiles"
David from Cooking Chat shares "Grilled Shrimp with Pouilly-Fumé
Camilla from Culinary Adventures with Camilla brings us "Gravlax, Goat Cheese, & French Sorrel Stuffed Squash Blossoms + Patient Cottat Sancerre 2010"
Anna from Anna Dishes is still whipping up her culinary creation
Tammy from Telling Stories from Chez Nous is sharing "Lemon Garlic Chicken with Pan Sauce paired with Oisly & Thesse Sauvignon"
Christy at Confessions of a Culinary Diva is sharing "Chard Roasted Salmon with 2013 Pouilly Fume and 2014 Sancerre Rosé"