These two ... The mommy is my baby and the baby is hers. She and he are two peas in a pod. He is her sunshine.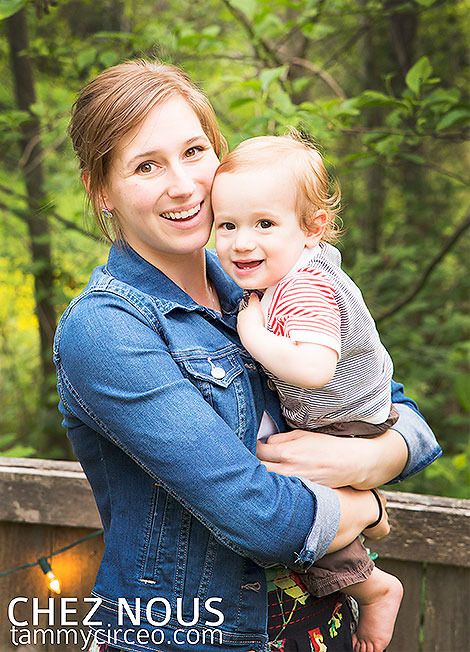 This sweet mommy has sung "You Are My Sunshine" to her boy since his first bath in the sink and it has been the balm for many anxious moments in his young life.
This photo was taken on Mother's Day. Matthew's first year has passed and Emily has celebrated two Mother's Days, but this is possibly this first she'll remember since she was so exhausted for last year's. I wanted so much to give Emily something for Mother's  Day that she'd like and remember and I might've succeeded on one point. She'll remember it!
I was in the shower the Saturday before Mother's Day--that's exactly 24 hours before the holiday ... just so you have a time reference ... and although I'd been wracking my brain for weeks, drumming up my best creative juices, and scouring all imaginative outlets, the ions in the water finally lit my brain on fire. Yep ... that's what I'd do! I'd go to the produce market and beg for a pallet and I knew what I wanted to paint on it.
I told my dad about the idea and he's usually all about a DIY because he's the farmer sort that makes any-and-everything happen, but he had all sorts of impossible questions like ... "Well, what size do you want it to be?" and "What if the boards aren't clean?" and "Pallets aren't all the same size, you know?" Dad! Come on! You're the Make-It-Happen Guy!!
Folks, I love my dad. And I love precision. And I'm fully in favor of a plan. But when an idea hits you like this one did me, you just go in search of a pallet and let the chips fall where they may. Dad wasn't real sure of my modus operandi, but rode shot gun and didn't talk back.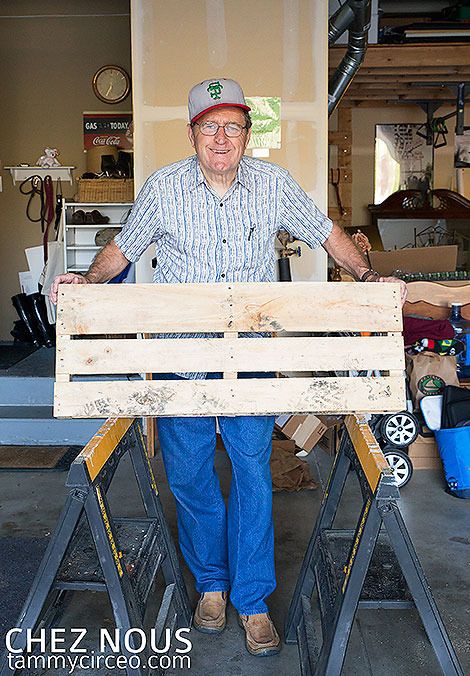 Can you believe the produce market had a pallet? Just lying out back? They apologized for its condition, but they said I could have it.
After sizing up my car space, it was decided that Mom would be left behind, but she was willing to contribute to my gift to Emily. :) She had a book with her so she was happy as a clam.
I got the pallet home and Dad went to work on it. You have to understand that my dad is a perfectionist. It's just not OK to do something half-heartedly. His philosophy is, "If something is worth doing, it's worth doing right." In this case, it meant that he tore the pallet apart, righted the 2x4s, ripped out nails, and reassembled the slats to match the design of my project. That's my dad for ya and I love him for it. The baseball cap needs some help, but the man wearing it is A-OK.
This project turned out to be a group effort. Ken, my husband, sketched the lettering of what I wanted to paint ... He is so good at lettering.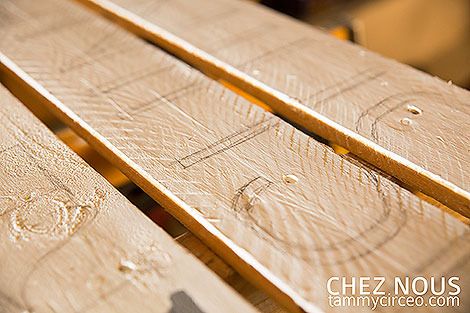 And I set to work on the easy job. I just painted on the reconstructed pallet that Ken had sketched on for me. It was paint-by-number, basically, and I almost felt guilty that it was so easy.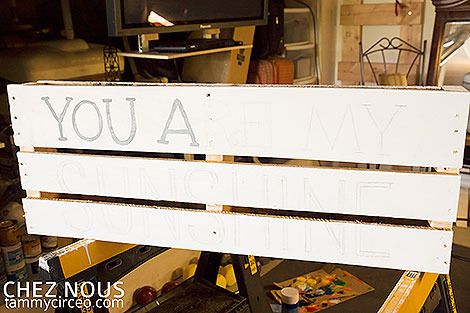 It took three of us to make this happen!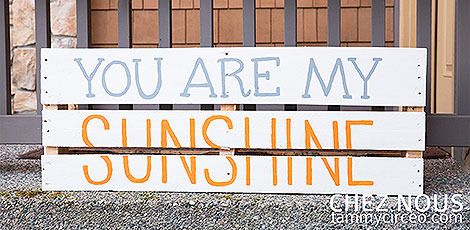 The reveal. I think Emily liked it, but Matthew wasn't sure.
"Oh dirt!"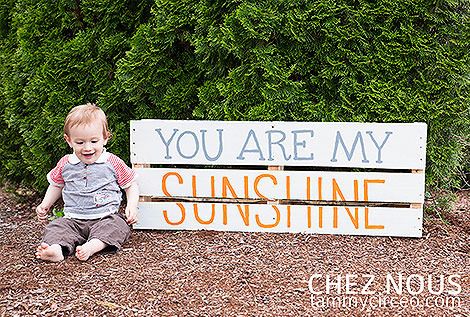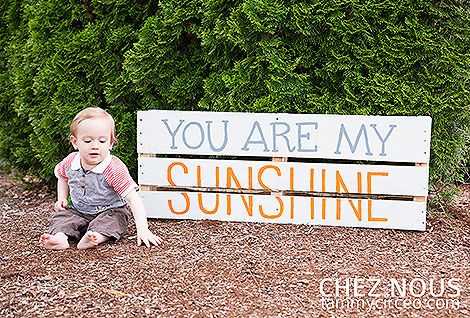 "What? You want me to be interested in this  ... this ... what is this?!"
"OK. OK ... Hear ye! Hear ye! Ye are me sunshine!"
"That was funny, right"
The icing on the cake for me was the joy my dad had in helping do something for Em. Can't you just see it on his face?!