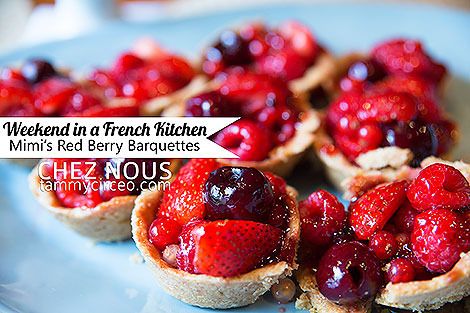 Red Berry Barquettes sounds so fancy! For those who think French food is fussy, I'll give it to you that some of it is, but the best of it is NOT at all. And this is one of those recipes. The word "barquettes" refers to the shape of the tart mold that should be used. I don't have those molds, however, and I'm not one to buy kitchen items for one use. If I find myself coming back to recipes like this one, I might put my neck out and get some, but in the meantime, my muffin tin stood in as the stunt double.
Emily made the dough and brought it to my house. We use spelt flour in baked goods because she is allergic to wheat, but can tolerate spelt. The flour she used in this dough was whole-grain spelt and that is why it looks darker.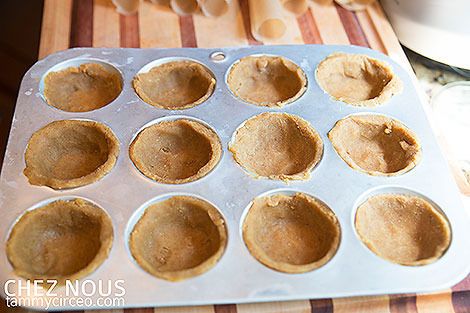 She rolled the refrigerated dough out with my marble rolling pin. They are so wonderful because the weight really helps when rolling out refrigerated dough! That stuff is hard and marble is heavy enough to give the arm muscles a boost! We cut parchment paper to fit the cups and filled them with ceramic pie weights. You can use dried beans or even rice, both of which I used before I purchased pie weights. Just be sure to put them in a labeled jar so you don't mistakenly try to cook them. Blech!
After the shells are cooled, they are brushed with jelly. The recipe calls for cranberry jelly, but we couldn't find any. We used red currant instead which worked out just fine ... it's just about as tart as cranberry would be.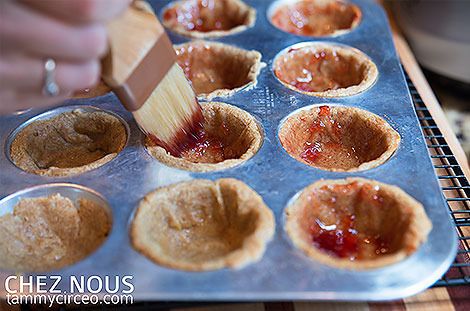 And then ... simply red berries piled in the pastry shells. We used strawberries, raspberries, cherries, red currants (AND white ... cuz we have a rebel streak). Those babies are finished off with a brush of jelly ... et voilà! A dessert fit for any sweet tooth! That white currant looks like a pearl tucked into the tart, doesn't it? Quite the serendipitous shot.
There's very little sugar in this recipe, for those concerned with sugar intake. There's a little in the crust, and then the jelly and the natural sugars in the berries. C'est tout! (That is all!)
I know some of you OCD types counted the tarts on the platter, added the two on the dessert plates, and wondered where the 12th one ended up. Am I right? Yeah, you know who you are!! The 12th shell was simply too cozy in the tin and just wouldn't leave ... so we had to abandon it and count our losses.
Bon Appétit!
{According to the rules of Weekend in a French Kitchen, we do not publish the recipe, However, you won't regret purchasing the book and cooking along with us! Visit our website to join! Check out the other members' posts HERE.}