Pumpkins might try to nudge apples out of the way during this autumn season, but apples hold their ground quite solidly. One of my favorite ways to enjoy them is in a tart and this one that Mimi offers is unique and simple. 
A couple of apples are first cooked with a little sugar and orange flower water which lends an unmistakable floral note that is welcome, but not expected in apple desserts.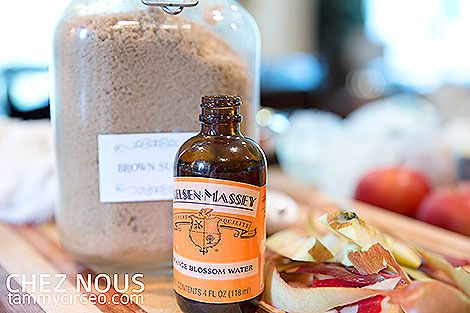 Those apples are mashed with a potato masher ...
Then spread onto the bottom of a cold crust ...
I chose to leave the peels on the apples because they were so pretty, arranged them in concentric circles on top of the apple compote, and finally sprinkled them with a little sugar ...
... bake it for 30 minutes or so ... And you can dig in. This dessert is simple. Broken down, it's just baked apples on top of a layer of orange-flower-scented applesauce in a crust. My favorite bite was the last bit of applesauce near the crust that comes up the side of the pan. I folded it over and my southern self wondered why I didn't make a boatload of that applesauce to make fried pies instead!
{According to the rules of Weekend in a French Kitchen, we do not publish the recipe. However, you'll not regret it one minute if you purchase the cookbook and cook along with us! Visit our website to join! Check out the other members' posts HERE.}