If you're going against the flow of dieting in January, and your sweet tooth is calling your name, this dessert just might be the answer.
Meringues are light and fluffy and if you make them as large as Mimi suggests, you will guess they are called Mont Blanc because they resemble a huge white mountain by the same name!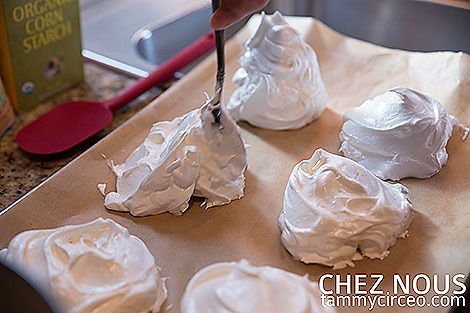 Mounds of meringue ... formed into nest-like shapes ...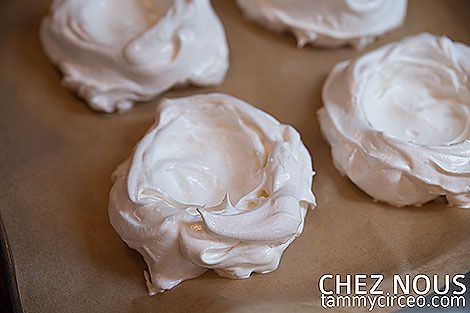 ... and slowly baked.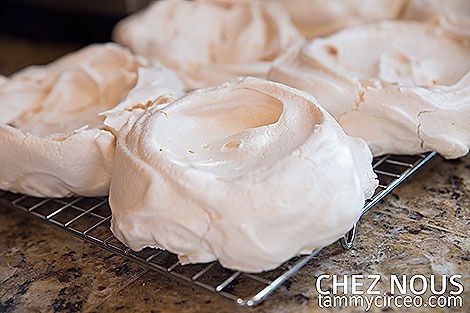 The next part is when we had to get a little creative. Thankfully, our grocery store carries lots of uncommon ingredients so finding the chestnut cream wasn't a problem. The chestnut puree, however, wasn't to be found. I found a package of roasted and peeled chestnuts and hoped that I could figure out how to make it! Emily found a recipe online so we put the Vitamix to work. We didn't have enough chestnuts, though, for it to work properly, so we ended up using the immersion blender for a better result. We made our own marrons glacés (candied chestnuts) for the garnish, which we did by reducing a simple syrup and cooking the chestnuts in it for a bit before laying them out on parchment paper to dry.
The meringues were filled with whipped cream, topped with the chestnut mixture, and garnished with marrons glacés and confectioner's sugar. The flavor was wonderful, albeit too sweet for me, and half-way through the plate, Emily and I both looked at each other with buggy eyes wondering how we'd ever finish a whole one!