Dinner is highly anticipated around here when the crew learns that salmon is on the menu and if you look through the recipe tab above, you'll find many recipes for salmon listed. This preparation is flavored with spices that I have never used on salmon before, though ... cumin and chile powder! I'm a huge fan of Mexican flavors so this recipe had me at "hello".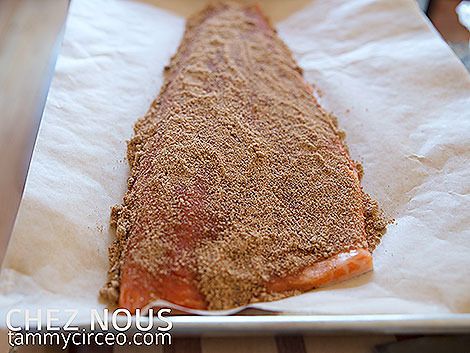 The cumin and chile powder are mixed with a little brown sugar, salt, and pepper, then rubbed on the salmon before chilling it again for 30 minutes or up to four hours. During that time, the sugar begins to melt and marinate the fish. I put it on aluminum foil to grill it, but if you're brave, you can put it right on the grate. Unfortunately, I've never had success with grilling fish straight on the grill and I'd rather eat it than lose it through the grate!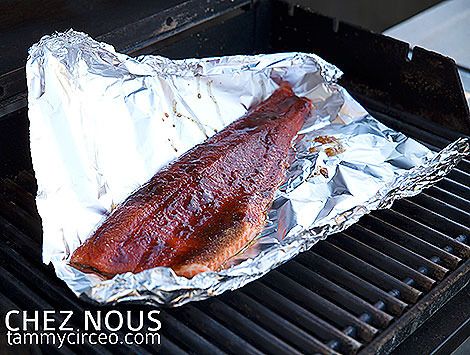 I covered the grill to allow the smoke to flavor the meat and to keep more heat near the meat.
The sugar caramelizes so beautifully and the cumin and chile powder counter the sweet perfectly. I didn't even try to take the salmon off of the foil before serving ... I just cut pieces and separated it carefully from the skin. No one minds the baking sheet service if the salmon is tasty!
The tomato vinaigrette is pretty much just tomato, shallots, vinegar, olive oil, salt and pepper. Perfect to complement the smoky sweet salmon.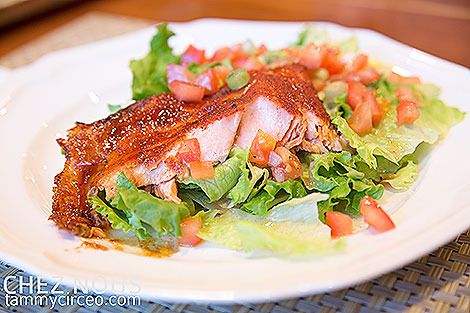 Bon Appetit!