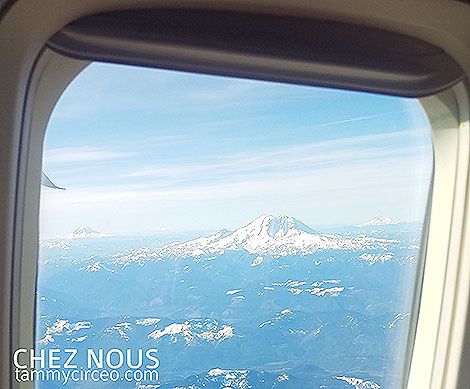 The last day of March found us on an airplane bound for the Southeast. It was an absolutely beautiful Pacific Northwest spring day, such as doesn't often show up so early. The morning was bright, the skies were clear, and as the pilot dipped our plane away from the majestic PNW, we had a gorgeous view of Mount Rainier, along with her friends, Mount St. Helens and Mount Hood. Simply an amazing way to bid farewell to our home for a few days.
We arrived in Nashville safe and sound and were so happy to spend the weekend with a couple of my brothers, and their friends and family. My brother and his wife hosted a party while we were there, inviting neighbors, friends, and family. It was wonderful to work with Timmy and Jessica to plan and make the food, then to meet their community, and become a small part of what they experience every day.
Sunday Dinner in the south has traditionally been an institution and in long-standing traditional families, it remains so. We were invited to Sunday lunch at what I've dubbed "the plantation" ...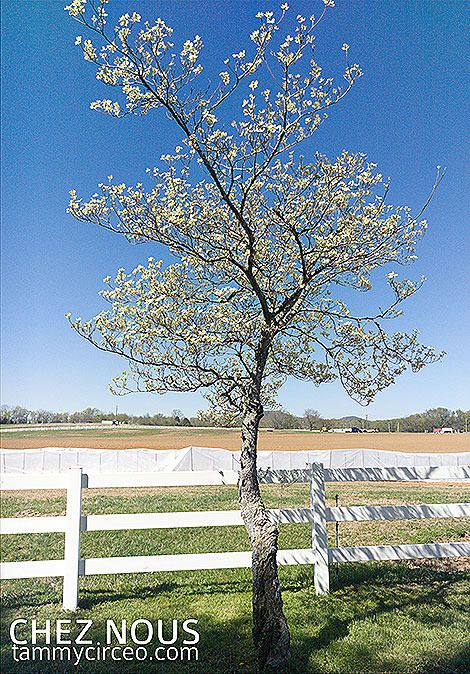 This is obviously the kitchen, but man ... what a kitchen! There were two sinks, two stoves, two ovens, a built-in fryer (of course, it's the South!), two garbage compactors, an ice maker ... Don't forget those gorgeous brass light fixtures! And there was another part of kitchen behind me!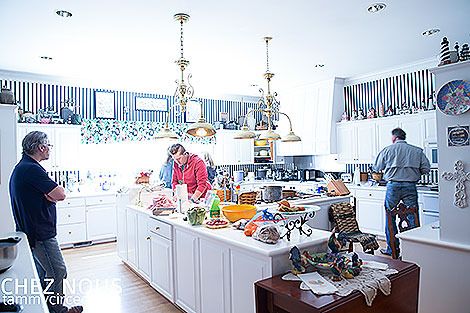 See that pile of pork filets? They were eventually battered and deep-fat fried. This girl thanked God for that huge bowl of sliced cucumbers on the buffet!!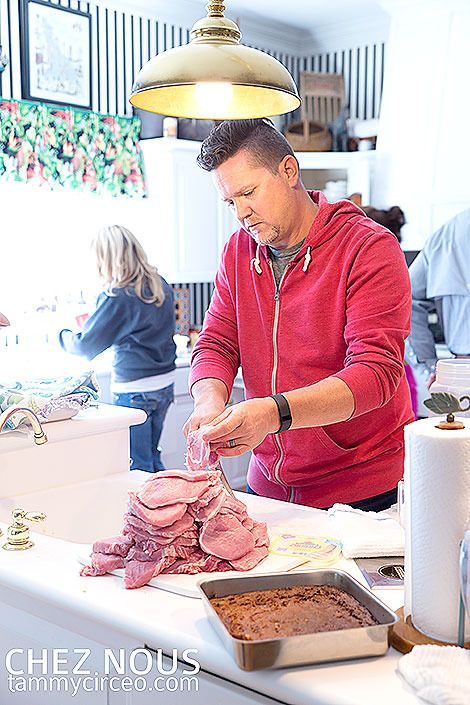 I had a very special breakfast chef, my niece. :) She even formed my pepper-jack-laced eggs into a heart shape. Because she loves me and has a beautiful caring heart of her own.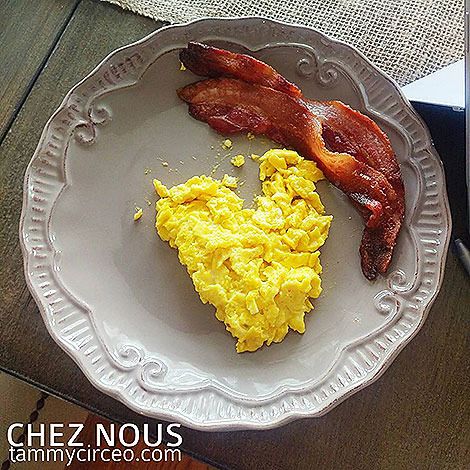 She and her Uncle Ken bonded over Yahtzee. Truthfully, any game would've done the job, I think.
Our first weekend came to a close so I said a first goodbye to my Nashville brothers ...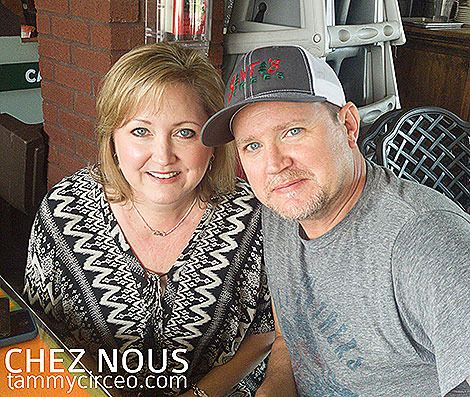 ... and drove a bit further south arriving just in time to enjoy the wonderful dinner that Mom made for us all to celebrate Dad's birthday! Looks like he's proud of himself, right? He should be! He is a vibrant 73-year-old man!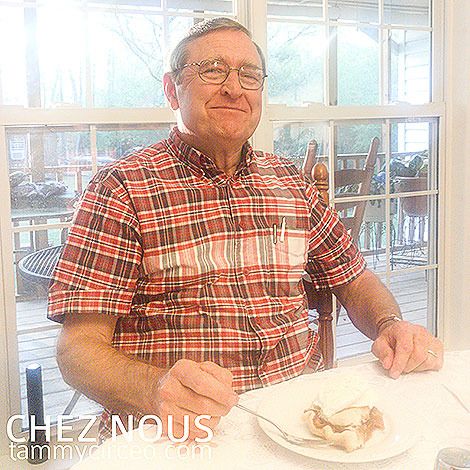 We made time to see friends who have known me since before they were married and have known Ken since he was a kid! How fortunate we are to know these people and for them to remain good friends of our parents for about 50 years!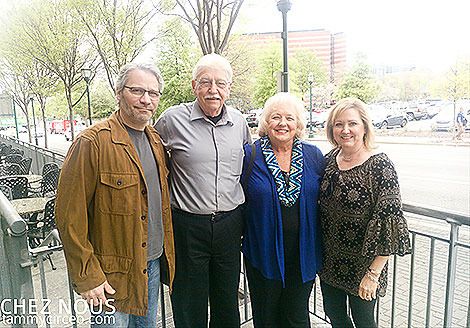 It meant the world to me that my friend, Lisa, could carve out a bit of time for me, too. She is one of the few literal life-long friends that I've had. We were in church nursery together as babies! (And I don't know what we're doing with our hands in this photo ... We were more concerned with the lack of control we had over what the wind was doing with our hair.)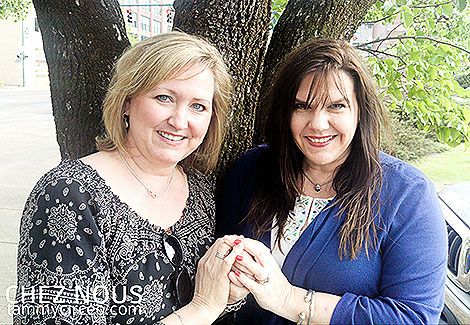 On our way back to Mom and Dad's that afternoon, I asked Ken if he would be willing to go with me to Mama Trudy's gravesite. I didn't know how it would affect me so I just wanted to go without other family members. Truth is, Mama Trudy isn't there and I know it, but there's a reason we place a gravestone with a person's name. It's to honor that person, to remember their life, and to continue to appreciate the influence on our own.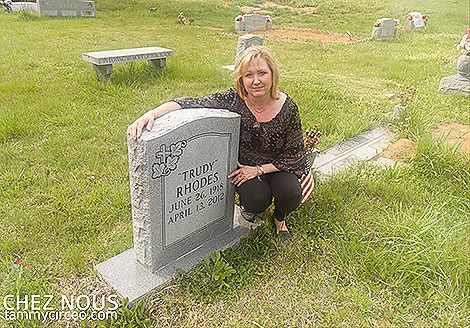 I was choked up from the moment I stepped from the car. I missed her. Just knowing she was always there. I continually miss not being able to call her or send her a card or gift. I was again struck by the shortness of years and as I stretched my arm across the headstone for the photo, I wished so desperately to be draping my arm across her small shoulders and pulling her close. As Ken and I drove away, I was sniffly, to say the least. He said, "You OK?" My answer? "Yes. It's just me. She isn't here. It's just her gravesite. But the memory of her makes me want her to be here!"
We continued the week, enjoying many family dinners. Thanks to my sister-in-law, I even came across Mama Trudy's gardening bonnet! She had made it for my aunt for a school costume, but ended up using it later for gardening. She never was one to waste anything!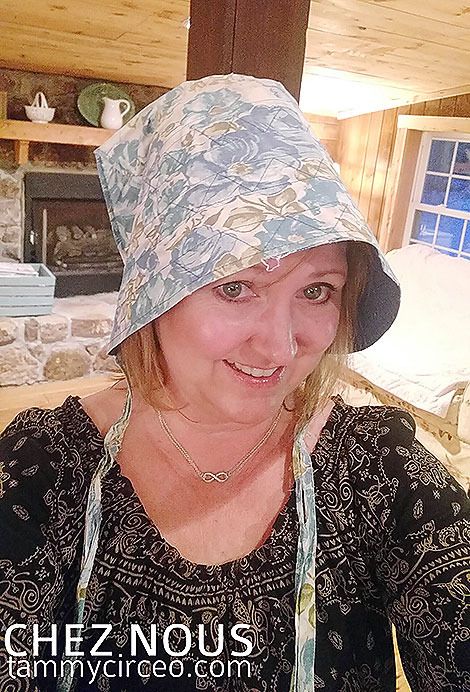 Speaking of gardening bonnets, I took it on myself to weed Mom and Dad's front rose garden since they've had their plate full with tons of other home projects. Whew, boy ... was it hot! I opted for a cap rather than Mama Trudy's bonnet, though.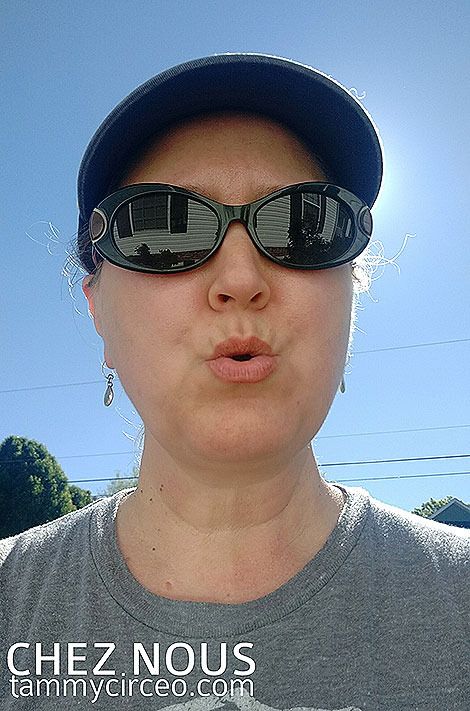 We spent a day in Chattanooga with my older brother, his wife, and daughter. We had coffee at Rembrandt's, walked across a glass bridge that had me hugging the center section that was steel or some other none-see-through substitute!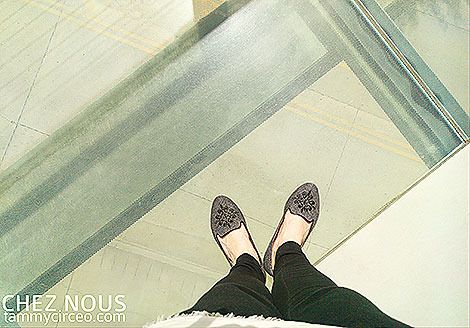 ... then across a bridge spanning the Tennessee River.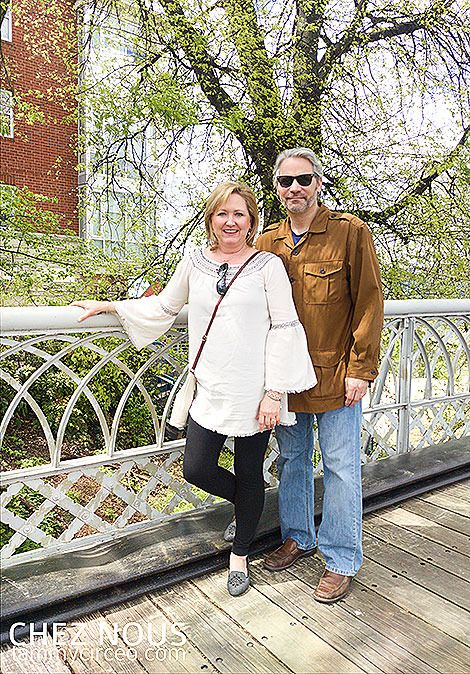 We did some shopping, walking, and, obviously, some sitting.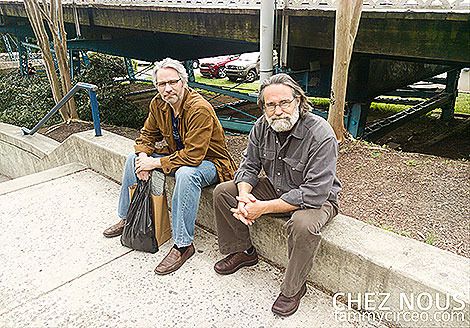 An icee for a certain neice was a must!
We had planned to see some more friends that evening and on the way to their house, we stopped by a couple of other homes ... ones that we had actually lived in when we lived there! This is the home that we brought Emily home to when she was born. We occupied the main floor and the converted upstairs apartment was occupied by a single gal who chose to drop bowling balls on the floor above our bedroom at 2 AM EVERY.MORNING! I don't know what was going on up there, but I do know that my pregnant self did not appreciate it very much.
We spent the evening with our friends, the Cooks. I've known them since I was eight years old. Their home was often my weekend getaway during college, and they were our kids' surrogate grandparents when mine were overseas. They would come pick Emily up and take her "shopping". Their boys acted like Emily was their neice and they would stop by our house on the way home from school or work just to see her! So many memories with these dear people.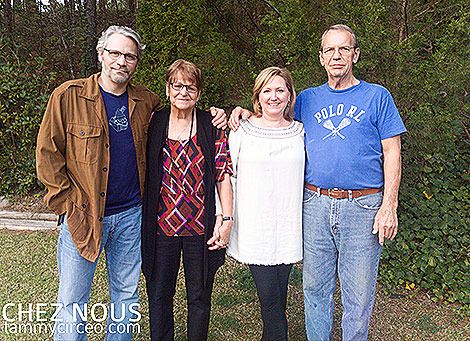 ... and Mom and Dad: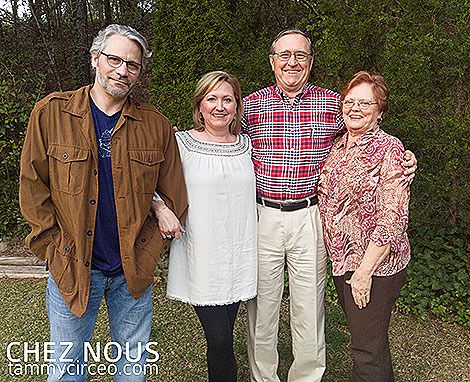 The older brother, AKA Grizzly, with his gorgeous wife: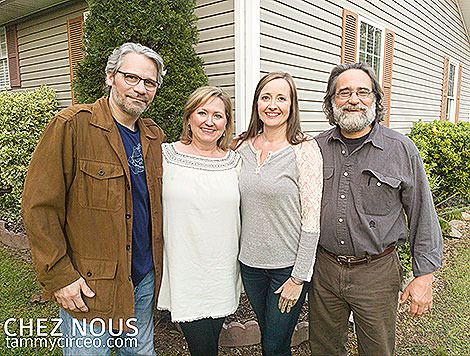 The Cooks lived in this home when I met them and for many years after, then others (including us and one of my brothers!) rented it from them for a while, and now they live in it again. Of course, it's been remodeled a few times and it's absolutely homey! The Cooks are the epitome of Southern hospitality and Mrs. Cook is always about an hour away from putting a suitable meal on the table for whoever shows up to eat! I love this second family of mine.
After going to Mama Trudy's gravesite earlier in the week, I thought it needed to be trimmed up so I asked Dad if he would help me do it and of course, he was willing.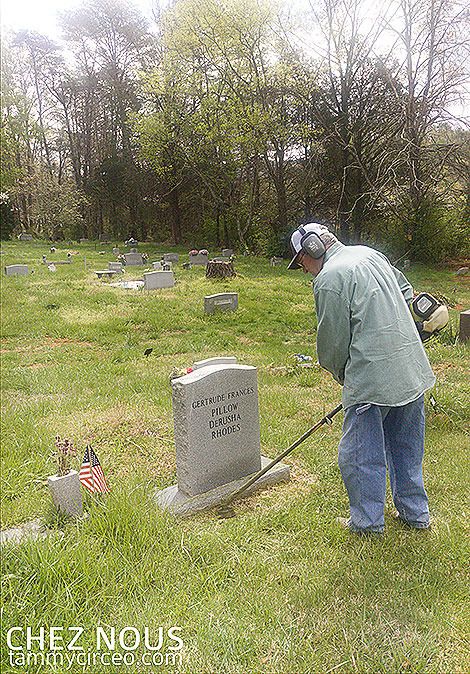 He did most of the work, I took photos, placed flowers, and of course, the gardening bonnet.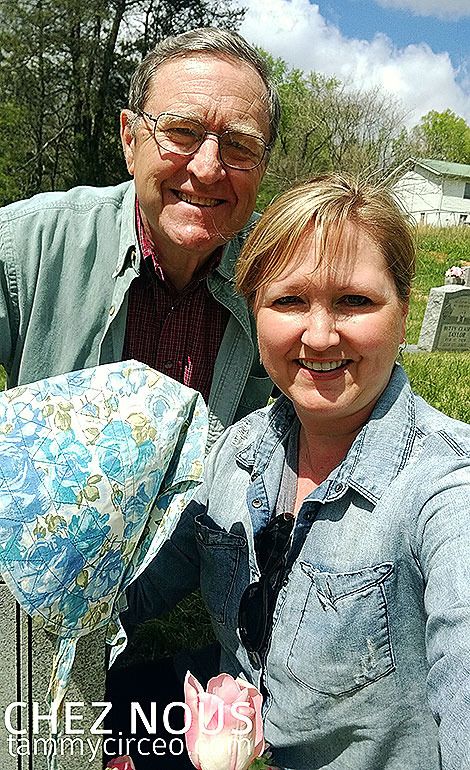 My brother is a master craftsman in the construction industry and does beautiful handiwork in a burgeoning community called Cloudland Station. This house was sponsored by This Old House and he is currently working on a house sponsored by Southern Living.
The work required in these homes is intended to reflect craftsmanship from one hundred years ago. The covered bridge pictured below is built using the old methods that Ken refers to as "organically cantilevered"! Truth is, Ken has no idea of how to refer to it, but Sammy is well-versed and we were impressed with the authenticity, the lack of nails, and the absolute workmanship.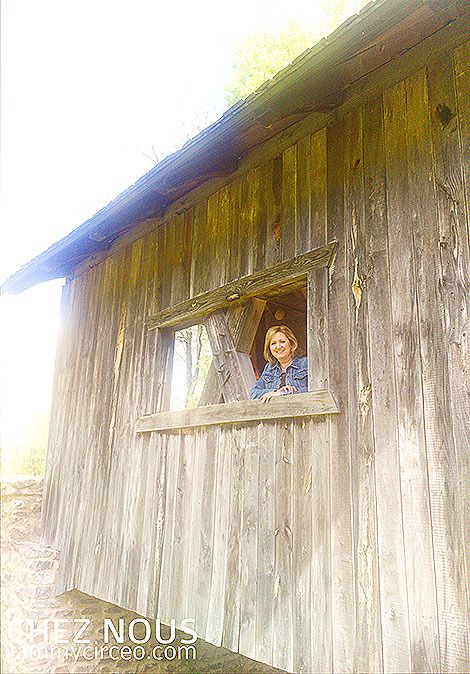 We wished we had more time in Chattanooga, but we had to head back to Nashville for our flight home. We spent the last day checking out the Pickers' place...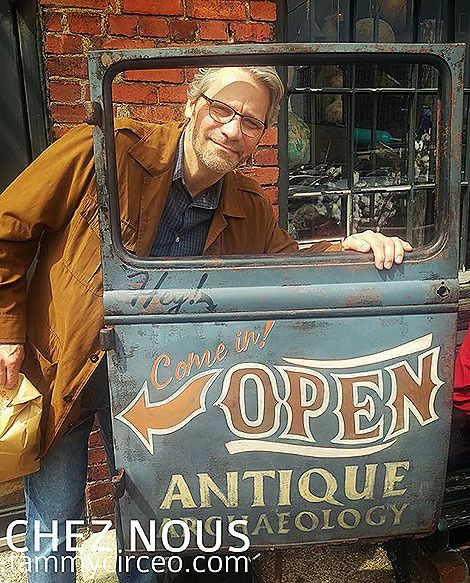 ... and having BBQ! Martin's was a good recommendation! A real good one! We shared the Big Momma Sampler and added a side of wings. We scarfed it all up and were only sorry that we didn't take some home to my brother's for dinner! I think he was sorry, too. :/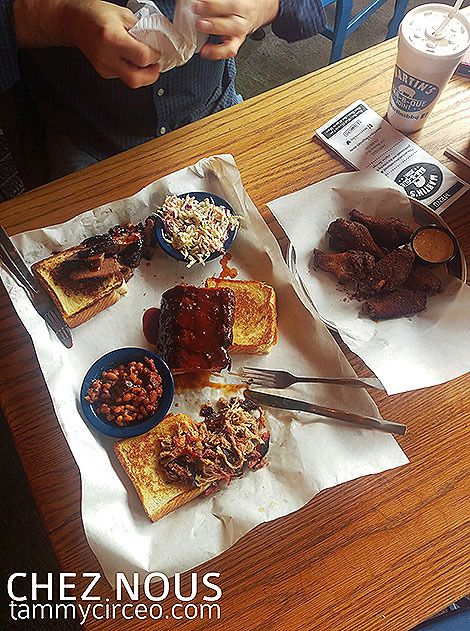 We said our last goodbyes the next day and I felt all the brotherly love!
Goodbye, my southern home. Till we meet again.