Making Strawberry Jam is a summer tradition that I rarely pass on if for no other reason than that I absolutely adore the fragrance of it cooking. It's reminiscent of lazy days and heady warmth, and having a slice of fresh bread with jam in the winter is worth the heat in the kitchen in the summer.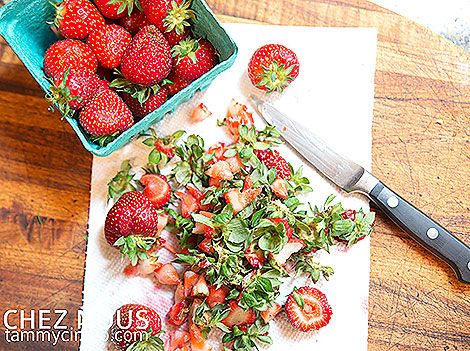 How about a quick tutorial on hulling strawberries? Many people slice across the top of the strawberry to remove the leaves, but doing so takes quite a bit of still edible berry away as well.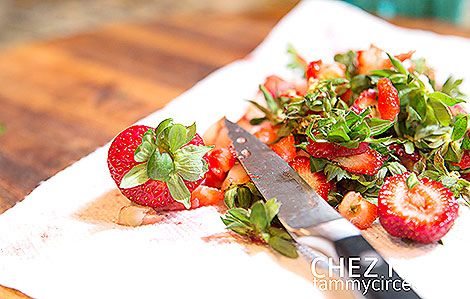 (For the purposes of this post, I removed the leaves to make it more clear, but it's not absolutely necessary. If you don't remove them, you might get small pieces of them stuck on your knife so be watchful.)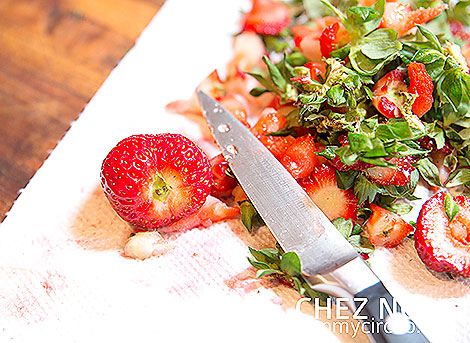 Instead of slicing across the top, hold a small paring knife by the blade, and cut a small circle that removes the stem and hull. Voilá! You've hulled the strawberry and reserved most of the berry.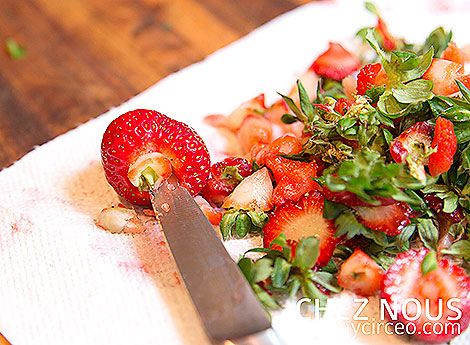 I've posted this recipe before, but it bears a repeat! A long-time friend gave it to me years ago and it was her grandmother's. Along with a hard boil, you need pectin, sugar, and acidity for a successful jam. This recipe uses only fruit (which has its own natural pectin), sugar, and a bit of lemon juice.
You'll need four cups of berries, smashed up. Sometimes, I use the food processor or blender, but a potato masher works fine, too. You'll probably have larger chunks of fruit that way, but that's not a bad thing!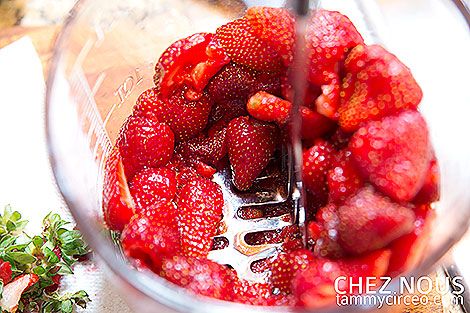 Boiling the fruit with the sugar creates a foam which can easily be scooped off with a large spoon.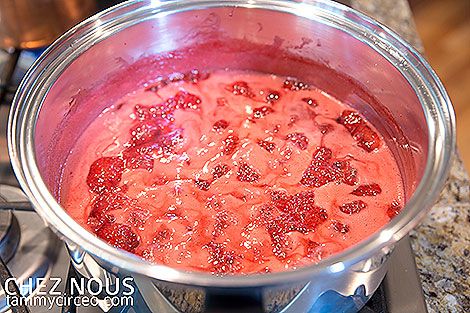 However, a trick my mom learned from a French friend is to stir a pat of butter in to the jam at the end of the cooking time.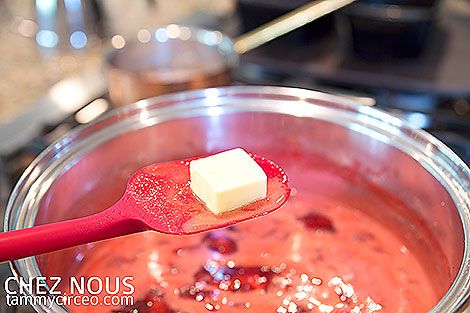 I'm not sure of the science behind this trick, but it works to reduce the foam and you haven't spooned out any of your delicious jam.
Put your jars in hot water to temper them before ladling the jam in and put the lids in a small pot of low-boiling water to sterilize them and help the seal to occur.
After capping the jars, place them on a dishtowel and cover them to keep any draft from hitting them. With the heat of the jars and jam, a cool draft could cause them to break.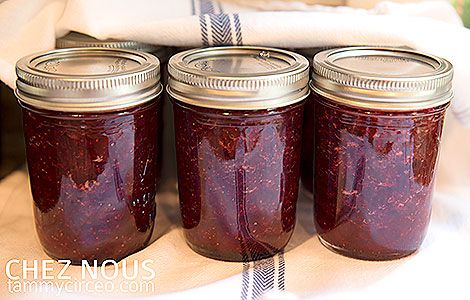 You'll start hearing the jars seal pretty soon with the satisfying "pop" that I love so much. It's like hearing, "Good job, Tammy!"
This recipe yields six jars of jam and you'll definitely want to make multiple batches not only to have plenty for yourself, but also to share with others!
Bon Appétit!