Suffice it to say that my year has been busy, but all the while, I've been creating for Snap Click Supply Co. Although they've posted my projects, I have been remiss in posting them on my own blog! So here they are from March through July.
MARCH: I used my Silhouette Cameo to work with Bits & Pieces Paper Lab's Love Bugs Cut Files  to make a stretched canvas piece of art. I pasted an embossed white paper to a stretched canvas then layered the darling cars on top with the caption "Love Bug". I used a "racing stripe" washi tape (thank you, Heidi Swapp!) around the edges of the canvas and made "tire marks" with a black ink pad. This is a darling kit that is perfect for Valentine's Day, anniversaries or weddings. Use these cut files to make canvases, on your scrapbook pages, or for making cards! ‪‬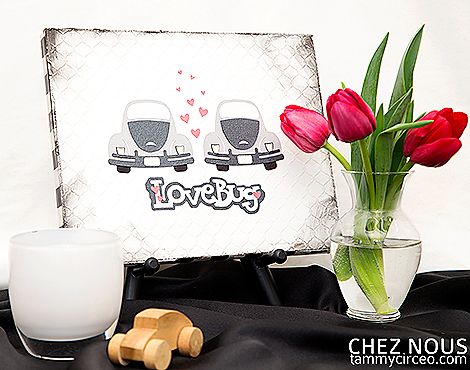 APRIL: I was assigned a digital layout using Echo Park's Dino Friends colletion. My design tip was about working with groups of threes. You'll notice the three photos (also known as a triptych), the three star elements in the upper left corner leading to the group of three "rawr" stickers on the center right, and right back to the lower left with the dinosaur and quote sticker. I even grounded them all with three border stickers along the bottom.: a chevron stripe, a green slanted stripe, and a dinosaur bubble.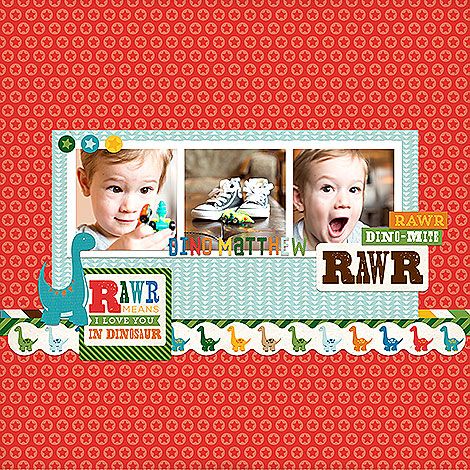 MAY: Cards using Bits & Pieces Paper Lab's Pretty Petals cut files as well as their Painted Butterflies files. I love using my Silhouette machine for all sorts of things and it really ups the game in card making! I picked out some of my favorite colors of papers, got the glue, brads, pop dots, and designs and let my imagination go. Cutting detailed objects that have lots of little pieces can be time-consuming so for the butterfly card, I chose the "cut edge option" and created a negative shape. ‬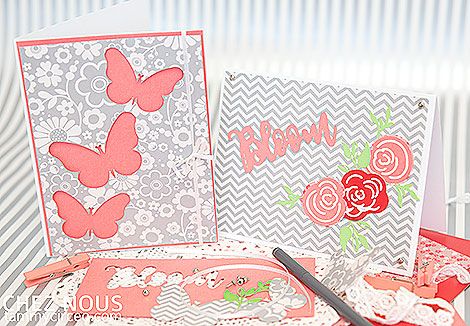 JUNE: Sometimes it's just too easy to find the perfect photo for a scrapbook page! When the kit is called "Walk with Me"  (by Mye de Leon and Mandy King) and you see a fabulous photo of your grandson and son-in-law on the beach, it's a no-brainer! I usually take inspiration for a layout from the composition of the photo. The beach scene and footprints were pivotal in composing this one. I found the sweet footprint poem written from the perspective of a child and decided right off to use it for the journaling. The striped paper lends a nautical feel and the coordinating blue, green, and red elements along with the kit's alpha complete the look. Just in time for Father's Day.  
JULY: I came up with a fun and reasonably quick idea to jazz up Independence Day table using a selection of papers from Lori Whitlock's Patriotic Picnic Collection.
The vibrant colors just lend themselves to Popcorn and Pinwheels! Although pinwheels are easily made without a pattern or cut file, it was convenient that both those and the popcorn boxes were available through the Silhouette store. The pinwheels cut file had holes so I threaded a gold head fastener through, then hot glued a barbecue skewer to the back. They add a bit of color and whimsy to a floral arrangement, to the popcorn boxes, and would look darling on cupcakes! The popcorn boxes fit just perfectly in a Mason Jelly Jar box that I covered in another paper. Celebrate! ‪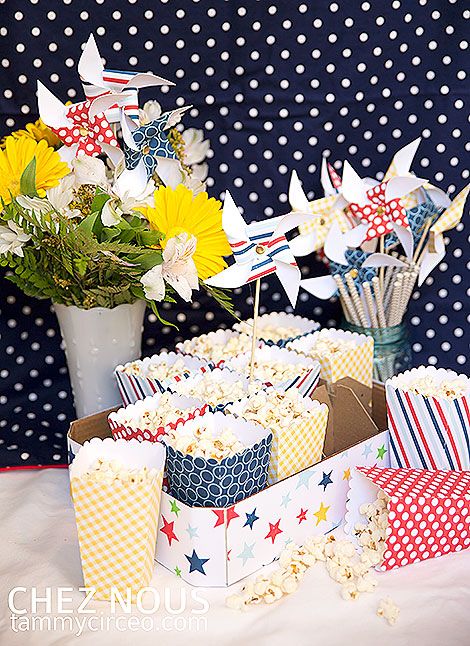 I love creating for Snap Click Supply Co. Check out their website for beautiful supplies!