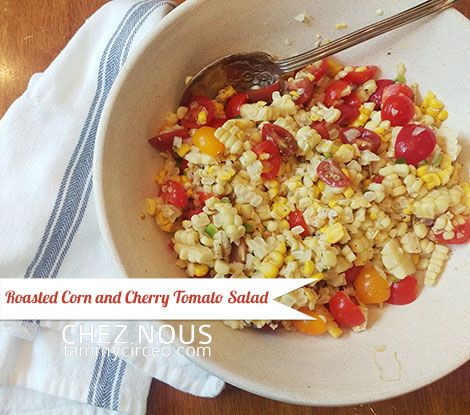 We love to grill corn on the cob when it's in season and I like to grill more than we'll eat at one meal so that I can make this salad for another meal. It's splendid with grilled flank steak, but accompanies any grilled delicacies you can cook up!
First, let's talk about grilling corn. It seems everyone has their favorite way to do it! Although I'm sure there's more than three ways to do it, I'm simplifying for you and just listing three!
    3 ways to cook the corn:
Pull the husks back, remove the silks, season and butter it (or not), then grill it with the husks on. Yummy and smoky!
Remove the husks and silks, season and butter it (or not), and wrap the corn in aluminum foil before placing on the grill. You might have to reconcile cooking in aluminum, but in this particular case, I'm not bothered by it.
Shuck the corn and put it straight on the grill. The sugars in the corn get caramelized so easily and that flavor is delicious! This might be my favorite way to cook it!
Now, let's move on to this salad. Simply put, corn and tomatoes are "summer" ... along with peaches. And raspberries. And blackberries. And melons ... Ok. I'll stop.
I usually make this with all the carefree attitude that summer affords so I don't measure anything. Four ears of corn is usually where I start, though, and then add a proportionate amount of cherry tomatoes (which is probably about 2 cups) cut in halves or fourths depending on their size, a finely-chopped half of a medium-sized jalapeno pepper, and about 1/4 cup of finely diced onion. I drizzle 3-4 tablespoons of olive oil over it all, the juice of one lemon and one lime, then season with salt, pepper, and garlic granules. You can add herbs if you choose ... cilantro and basil would my choices!
Give it a stir and it's ready to serve!
Bon Appétit! And because I do what I can to make your life easier, here's a downloadable recipe. :)