There were many years while raising our kids that I referred to as the "Cereal Years" because it was the easiest thing to hand to them before Mama had had her coffee. I even had a "Cereal Shelf" in the pantry ... and yes, you can bet it had a label on it! Not that the kids needed labels to find it, but labels? Come on, they make life easy, right?
Fast forward to a little more knowledge for Mama about the utter lack of nutrition in cereal and the realization that making breakfast sandwiches doesn't take too much time especially when the health of my family is at stake.
There were a few steps between cereal and breakfast sandwiches and to be most fair, I only recently started making them! I saw how easily my oldest made them for her husband so that he could take one out of the freezer to put in the toaster oven before getting ready for work. She originally baked the eggs in the oven in a large muffin tin, but we've recently both been frying them on the stove instead.
I use a couple of six-inch cast-iron skillets. They are just perfect for single egg frying and manning two skillets is easy enough and gets the job done quickly.
Back to the health issues, I prefer to use sprouted grain muffins, but the breakfast sandwich consumers in my home don't like that they are crumbly. Since I don't eat them, I concede and buy regular muffins, but I DO insist on the multi-grain rather than those made with white flour.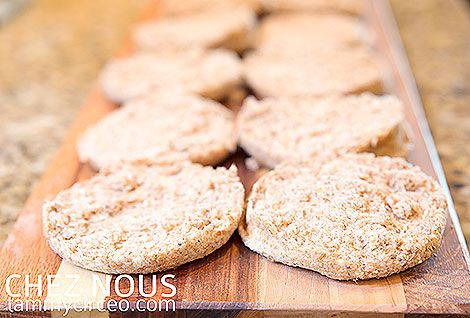 You can choose whatever breakfast meat you like. After I made a few with sausage, my crew informed me that they prefer bacon so I save myself a bit of work now and just bring it home! I bake a pound of bacon in the oven at 400 for about 20 minutes while I fry the eggs, open the muffins, and arrange the cheese.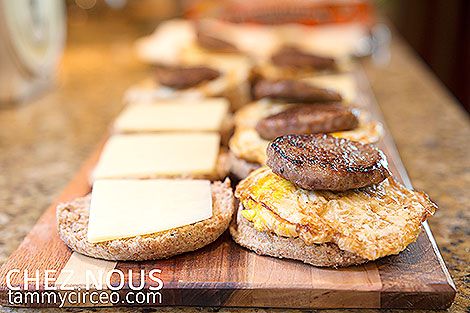 The cheese you use (if you use any at all) is, of course, your own preference. My gang likes cheddar and Muenster, but I think pepper jack would be an amazing option if you can stand a little spice. Or provolone or that super wonderful, melty Havarti. Your kitchen = your choice!
I buy foil squares to wrap them in. You can use regular foil or even heavy duty foil, but the foil squares don't retain the heat and you can grab them with your bare fingers. That's a good thing in the mornings ... before coffee.
If you are making variations of the sandwiches, be sure to label the wrapping with the ingredients listed. Include the date if you think they won't be eaten quickly. In my house, six are usually gone by mid-week after my Sunday afternoon production so there's no need to date. However, if you make enough to freeze, the date could be valuable.
If the sandwiches are kept in the fridge, my gang opens them with the cheese and bacon on one side and the egg on the other and then heats them for ten minutes in the toaster oven. If the yolk is just shy of done, it will finish cooking in the toaster oven. This isn't really an issue unless you are taking them on the bus to school or in the car on the way to work. No one needs egg dripping on their school or work clothes!
And there ya go ... breakfast waiting for you in the fridge just needing to be warmed a bit before facing your day. While it heats up in the oven, you can brew that much needed coffee and be ready to talk to anyone who dares open their mouths before breakfast!