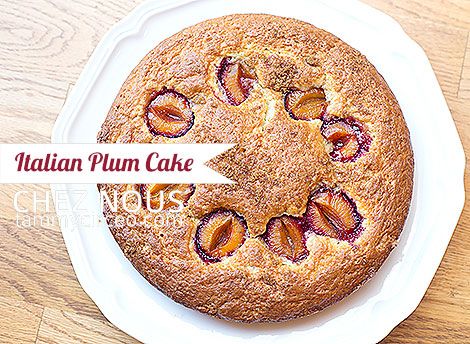 Years ago, my mother-in-law told me about an Italian Plum Cake that she and her family used to make. It involved a yeast dough, Italian plums (also known as prune plums), a sprinkling of sugar among other things. That's about all the "recipe" that I got and I was left to my own intuition.
I can do a yeast dough. I can cut Italian plums, and I can sprinkle the above-mentioned with sugar, but I just didn't think that would be palatable enough without further fuss. Given that my intuition isn't as keen as I wish it was, I relied on an internet search. 
I came across a recipe that sounded tasty and doable so off I went. You can find the original recipe HERE or click the download link at the bottom of this post for my version of it.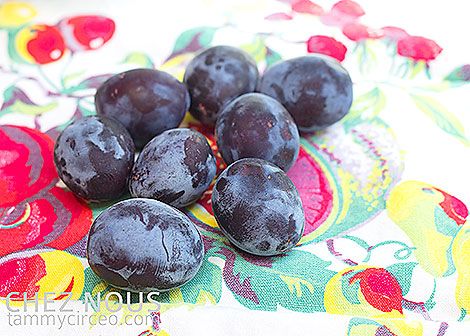 For this recipe ... and actually for any purpose that calls for cutting the plums in half ... find the crease on one side of the plum, place the blade of the knife perpendicular to it and cut all the way around. Gently hold each half of the plum in each hand and carefully twist in opposite directions. The seed should be easy to lift out if the fruit is ripe enough.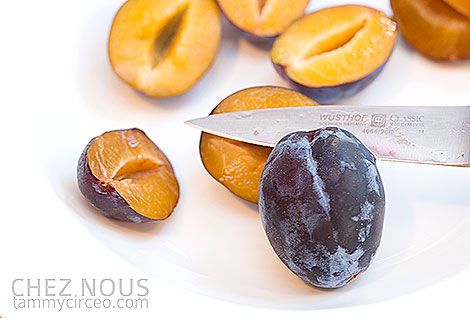 For this recipe, half of the dough is spread in the pan with half of the plums placed face down and sprinkled with brown sugar ...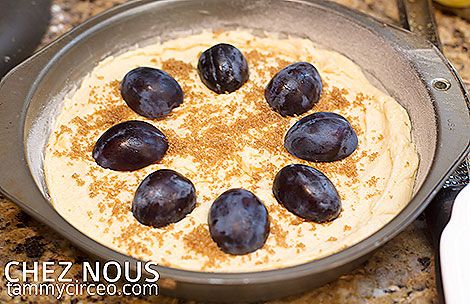 The rest of the batter is spread over the top of the upside down plums, then the remainder of the plums are laid on top face up. The color of the skins and flesh is just beautiful and the batter cooks up around them in a way that reminds one of a cozy hug.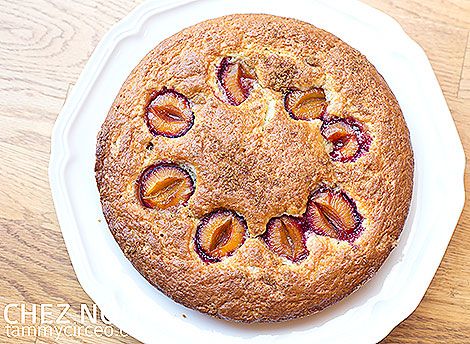 When you see these gorgeous plums in the produce department or if you're fortunate enough to have a tree in your yard (or your neighbor's!), try your hand at making this cake. It's just as delicious as a simple dessert as it is as a breakfast cake.
Bon Appétit!