This post first appeared on the Create Inspiration blog at SnapClickSupply.com as I am a team member there. It didn't post that long ago, but I want to share it with you all, too....just in case you didn't see it. Ya know, it's all about you and has nothing to do with my pride for my grandson. Not at all. 
(The FREE KIT that is mentioned is no longer free nor available, but I hope you will enjoy the story nonetheless.)
Until Matthew was born, when I heard grandparents say things like, "Being a grandparent is the best thing there is!", I would consider them besotted and speaking in cliché. However, once our first grandson was born, I more than happily joined the besotted ranks!
For this project, I decided to write a little book for Matthew that tells him a bit about the day he was born and how much he was anticipated and is loved. The FREE KIT that I used to create the book is hardly what I would call a "baby kit", but I hope to show you that with a little creative thinking, you can make it work quite well.
I made this book 8x8 inches so that it is small enough to hold while reading it to him, but not so small that the photos and words can't be easily seen. Initially, I thought I would alternate the colors of background paper on each page, but in the end, I preferred sticking to the same one throughout the book. Of course, this is totally a matter of preference and style.
I kept the format consistent on each page in terms of having a header, then photos, then the writing at the bottom. Again … it's just my preference and style.
I wanted the book to be personal for Matthew so I wrote it as I would write a note to him. The first image is the front cover …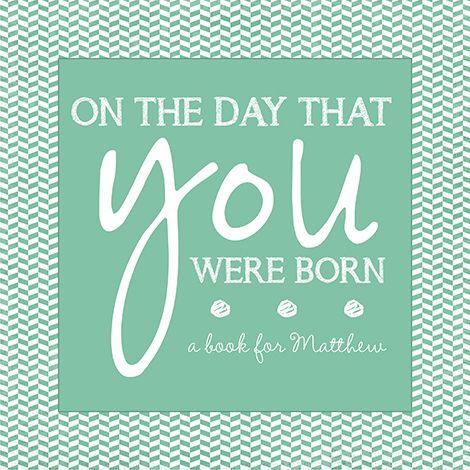 … followed by an introductory page (which has a completely white background so looks a bit strange in a post) ...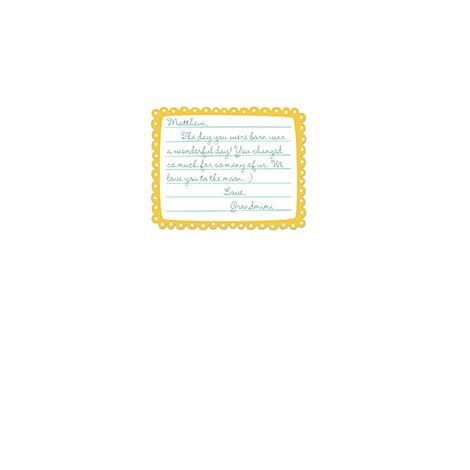 [Journaling: Matthew: The day you were born was a wonderful day! You changed so much for so many of us. We love you to the moon! Love, Grandmimi]
… and then the story …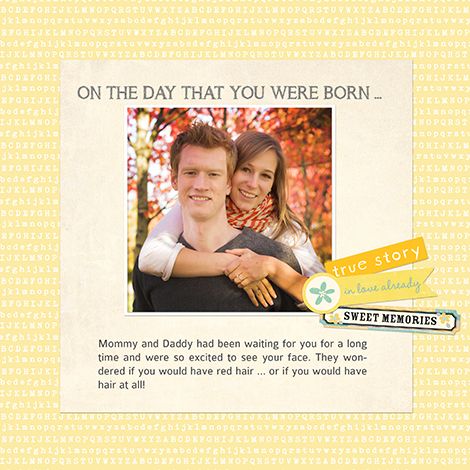 [Journaling: Mommy and Daddy had been waiting for you for a long time and were so excited to see your face. They wondered if you would have red hair ... or if you would have hair at all!]
These next pages will be facing one another in the book so I'm showing them to you as double spreads so that you can see how the printed book will look.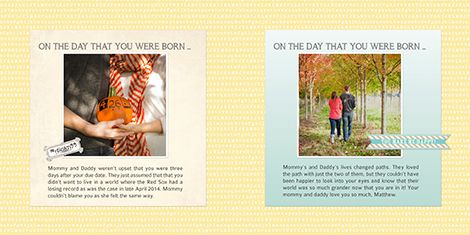 [Left side Journaling:  Mommy and Daddy weren't upset that you were three days after your due date. They just assumed that that you didn't want to live in a world where the Red Sox had a losing record as was the case in late April 2014. Mommy couldn't blame you as she felt the same way.]
[Right side Journaling: Mommy's and Daddy's lives changed paths. They loved the path with just the two of them, but they couldn't have been happier to look into your eyes and know that their world was so much grander now that you are in it! Your mommy and daddy love you so much, Matthew.]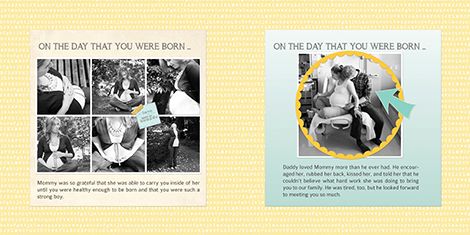 [Left side journaling: Mommy was so grateful that she was able to carry you inside of her until you were healthy enough to be born and that you were such a strong boy.]
[Right side journaling: Daddy loved Mommy more than he ever had. He encouraged her, rubbed her back, kissed her, and told her that he couldn't believe what hard work she was doing to bring you to our family. He was tired, too, but he looked forward to meeting you so much.]
[Left side journaling: Mommy and Daddy loved you before you were born, but when you were in Mommy's arms, they couldn't stop looking at you wondering who you looked like, marveling at how precious you were, and praying that they could be the parents you deserved. You are a very blessed boy, Matthew.]
[Right side journaling: You were so calm. You didn't cry very much and you seemed intent on listening to new voices, feeling new touches, and furrowing your brow to figure it all out.]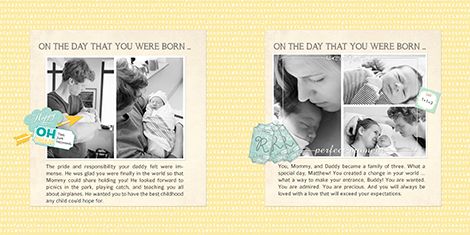 [Left side journaling: The pride and responsibility your daddy felt were immense. He was glad you were finally in the world so that Mommy could share holding you! He looked forward to picnics in the park, playing catch, and teaching you all about airplanes. He wanted you to have the best childhood any child could hope for.]
[Right side journaling: You, Mommy, and Daddy became a family of three. What a special day, Matthew! You created a change in your world ... what a way to make your entrance, Buddy! You are wanted. You are admired. You are precious. And you will always be loved with a love that will exceed your expectations.]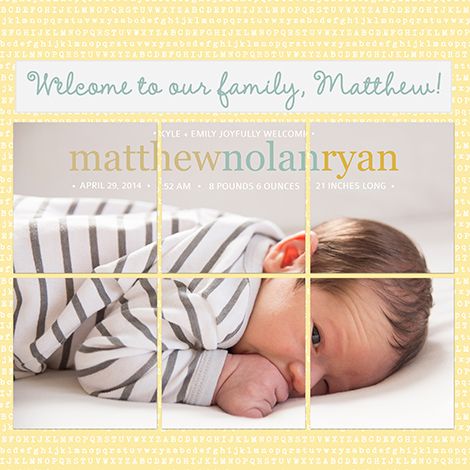 The back cover is simply the same paper as used on the front and I put a small tab at the bottom that says "a special story written by Grandmimi especially for Matthew Nolan Ryan".
I will have two books printed … one as a keepsake and the other as one he can handle every day should he choose to. Jessica's affiliate printer partner, Rex and his team at ScrappingSimply.com and Paperkiwi.com, has printed things for me before and I really like their work. Their software is easy to use and their book printing is amazing! They also offer specially discounted prices to JessicaSprague.com customers. Click here to read all about how to do that.
Here are links to the fonts I used: A Song for Jennifer, Ali Edward's Handwriting, Amelie
The techniques used to create this book are all covered in Jessica's first class, Digital Scrapbooking 1: Up and Running with Photoshop.