{I have my friend, Cindy, to thank for my love of oysters. She's a born-and-bred Portland gal and I saved my first taste of oysters for June 2012 to share with her at Elliott's Oyster Bar in Seattle. You can read about it HERE if you care to.}
I've recently read Meet Paris Oyster by Mireille Guiliano and I'm all kinds of excited about the oysters. So much so that when deciding on a recipe for the Winophiles post, I didn't quite make far enough south in France, but chose to camp out in the Charentes region. In my defense, Mireille says, "From the English Channel to the Mediterranée along the whole Atlantic coast, France equals oyster farming. From the north, Normandy, counterclockwise west to north and south Brittany, down to Charente-Maritime (Marennes-Oléron and Île de Ré), to the Arachon basin near Bordeaux, and across the Thau Lagoon in the southwestern Languedoc-Roussillon region are the prime breeding grounds for France's oysters." (page 25)
And after reading that, I will go study my map of France and wonder why I didn't continue on to the Languedoc-Rousillon region!
I'm also obviously woefully lacking in choosing wine from the correct region as well since the one I chose is from Bordeaux. Bordeaux is a bit south and a bit west after all and certainly the Entre-Deux-Mers wine is perfectly suited for oysters. It is a blend of sauvignon blanc, Sémillon, and muscadelle, which is a similar blend to wines made in Bergerac and Dordogne regions. So, I absolve myself of any fault. :)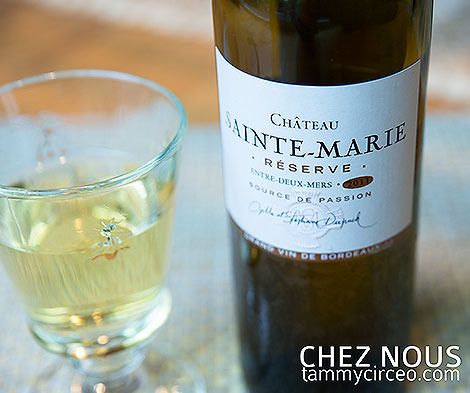 If you're not in France, I would assert that an equally delicious place to have oysters is the Pacific Northwest and I'm particularly fortunate that my local grocery store has no fewer than eight varieties to choose from. For this recipe, I chose large Dabob Bay oysters. They are briny, but still light and crisp in flavor. The fishmonger suggested popping them into an oven on low heat to make shucking them easier. She also said they would open right up, but apparently Dabob oysters are stubborn creatures. I didn't have great success although I think that bit of time in the oven made them easier to shuck with the oyster knife. Dabobs are large and difficult to open! If you choose this method, be sure to place cup-side down so as not to lose any of the liquor.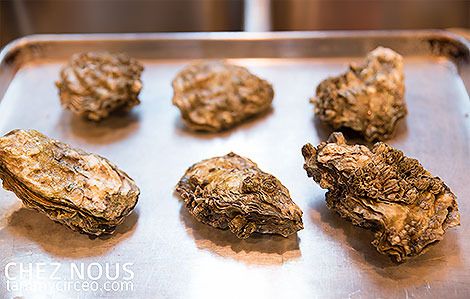 Put the oysters and their liquor in a small pot to poach and lay the cupped side of the shell on a baking sheet covered with coarse salt.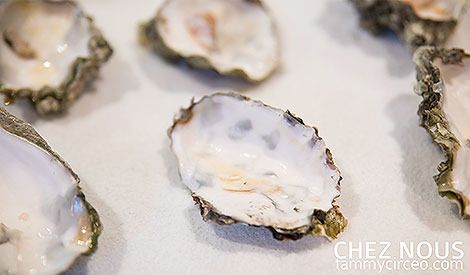 Transfer the poached oysters to the shells, strain the oyster liquor and reserve it for the sauce.
The sauce is simple ... butter, shallots, mushrooms, and parsley ... so very français, non?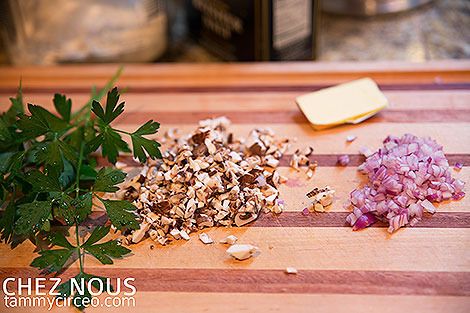 ... sautéed, then finished with the oyster liquor (thickened with a bit flour), and white wine. Of course, the same as you'll drink.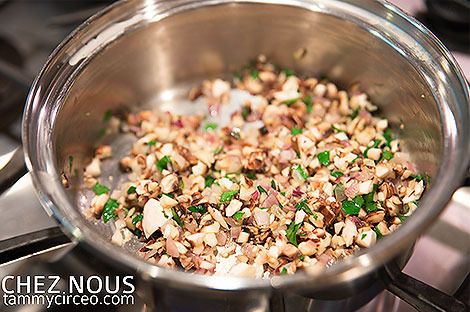 Spoon the sauce onto the poached oysters and pass them under the broiler for a minute of two.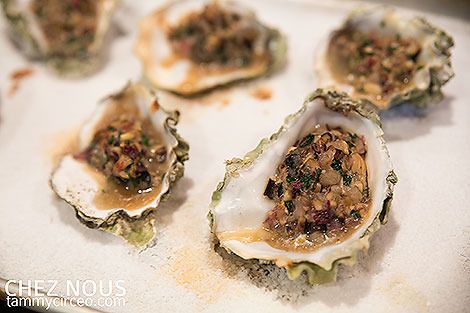 Be sure to have a spoon available to scoop all that yumminess out of the shell!
This Entre-Deux-Mers white is beautiful with the oysters prepared this way. I tasted it alone first and it was delicious as well ... crisp, aromatic yet light. Then I tasted it after a bite of oyster and it took on a different personality ... more buttery and round. Perfection ... as the bottle states, "Source de Passion"!
Bon Appétit!
Download Oysters á la Charentaise
If you're interested in what the others in the group posted about southwest French wines and foods, here's a complete list: