The weekend started off with bright blue sunny skies on Friday and I knew it was going to be an awesome weekend.
First up was the Jerry Seinfeld concert at the Paramount Theatre. What a show! It seemed that just as it started, it ended! And fresh material, too ... the guy is amazing.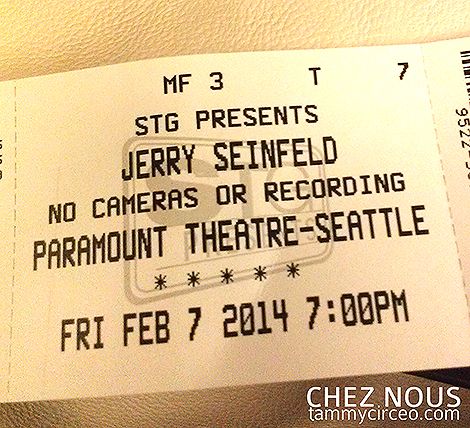 The last time we had tickets to see him, I had to give mine up because I had to work an event at the school so I was really excited about going this time. Ken has been a long-time fan ... even since before his show on NBC when we would set the VCR to record! Emily had just been born at that time so I, personally, have been familiar with his work for 24 years.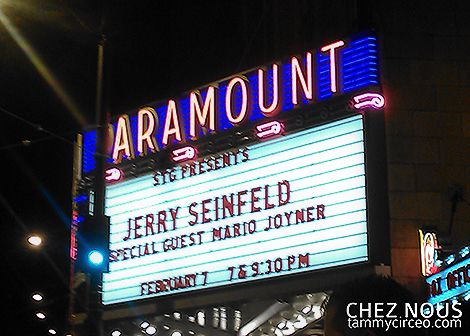 Ken and I both commented on the "guffawing" of the patrons behind us. Neither he nor I laughed audibly the entire evening ... lots of smiles and a few chuckles. Partially because we shun the younger generation's gratuitious laughter, but certainly NOT because we didn't find Jerry to be hilariously funny. We concurred that it is because we anticipated what he might say after years of watching him and were breaking down his routine even as he was performing it. Sometimes we were wrong, but it was an immensely gratifying evening and worth the ticket price. The two couples behind us, however, needed tissues, handkerchiefs, eye drops, and oxygen masks. Seriously, they laughed over more punch lines than we wish to count. Good thing we "know" Jerry so well.
"Bucket List: Have coffee with Jerry."
It was a busy day and we didn't have time to do dinner with friends, but we met up with them for a quick drink before the show. It's always so wonderful to enjoy these events with friends. I love Friday evenings out!
This is not our favorite photo of ourselves, to be sure! But can they all be glamorous?! Seriously, folks, it's costly to keep a makeup artist and photographer on call.
Saturday, I did a little grocery shopping, planning for the new week, and waited on the snow to arrive ... which it finally did late that evening ... Seinfeld and snow in one weekend? Jackpot. But I didn't even get out in it on Sunday to take any photos. So unlike me!
Here's to a new week full of lovely, warm, and cozy things!