1. There are many foods that wine accompanies very well. For most dinners, there is a wine that matches it. However, I would NEVER (can I repeat that? NEVER!) choose to drink wine while eating McDonald's. It's just not done. Unless, of course, I'm looking for a way to FORGET the meal because ... in my book, McDonald's is never consumed. Ever. Blech! Even with wine!
(I will admit to the fact that McDonald's has super-fantastic fries. Not that I know that first-hand or anything ...)
2. I really want to make some pinwheels! I love blowing them and making them spin. I think making them at a family reunion party, or a 4th of July Party, or birthday party would be so fun! Heck ... do you really even NEED a party to make pinwheels?! Just make a ton and stick them all over your front lawn! Your neighbors might wonder where your brain went, but I bet they would also be amused and secretly sneak over to blow them.
3. Do you take your own bags or baskets to the market to bring your groceries home in? It's "all the rage", after all, and "saves the earth". I have a couple of baskets I take with me, but when we run out of brown paper bags to put the recycling in, I opt for those at checkout. I found THIS IDEA for making produce bags. I find it so darling and am tempted to make a few.
4. When you are 44 (but no one's counting!?), and you sleep till 10 AM ... "Hmmm" is all you got to say. It is so refreshing ... there are no words except "hmmm". It almost makes you feel like a teenager again.
5. That's all I got, folks.
I'm still recuperating (I'm the 44-year-old mentioned in #4, btw) from the super busy week (plus some) of graduation, Mom and Dad visiting, and cramming every possible good moment into every possible nook and cranny of time. Today was the kids' OneActs ... directorial debut for Aly and last performance for Ben. Lots of photos, lots of enjoying talents, lots of "firsts" and "lasts" ... Hmmm.
Aly acted in her OneAct as well as having directed it. She played "Dulcibella" in The Ugly Duckling.


As a Lil Sis, you just can't get by without a little help from your Big Sis, especially where tying bows are concerned.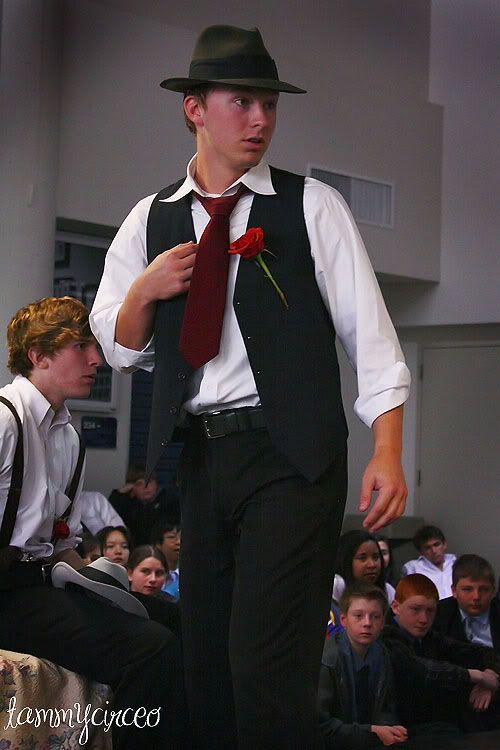 "Moi?" Yes, you! Whatever it is, YOU are guilty!