Can you believe it's already the holiday season again? It seems to come faster and faster every year, doesn't it? I recently published a post on Snap Click Supply Co.'s blog demonstrating how to make a quirky collaged Christmas tree with elements from Fancy Pants' Merry Little Christmas kit. Because it's the holiday season and Snap Click Supply is all about generosity, they offered this lovely whimsy to print for yourself for your own seasonal décor! You can download it on their blog, of course, or at the bottom of this post, too.
However, you might prefer to make your own using this kit or any other one ... So I'm going to give you a few pointers on how to do it. Here's a triptych of the three elements kits that are in the Merry Little Christmas kit to show you that picking a kit with lots of elements gives tons of options for making your shaped poster.

You can make this poster any size you choose, obviously. However, because I knew you were going to have the choice to download it, I wanted to give you the option to print it in a size that your home printer could easily handle and that was easily framed with a store-bought mat and frame. I opened a new document in Photoshop by clicking on FILE>NEW, then chose 8.5 x 11 inches in the dialog box for the size, also making sure to choose 300 PPI and … we're ready to get started.
We now have an 8.5 x 11 document, but a standard frame size is 8×10 so I brought in guides from both the top and sides to keep myself reminded to not put elements outside of that area and risk them being covered by the mat or frame. To bring in guides, be sure your rulers are visible by clicking on the VIEW tab, then scrolling down to RULERS and clicking again. When your rulers are visible, click down in the ruler at the top or side of the workspace, hold the mouse down and pull out a guide to the desired point.
Now you have your borders defined and can work within those. I knew I wanted a Christmas Tree shape so I chose the Custom Shape Tool. It's housed with the Rectangle Tool, Rounded Rectangle Tool, Line Tool … It's the last tool in the drop-down menu for that icon and it's a star shape.
I could've chosen a simple triangle shape, right? Because when you squint your eyes, a Christmas tree is really just a triangle. But I searched for an evergreen tree anyway and found one …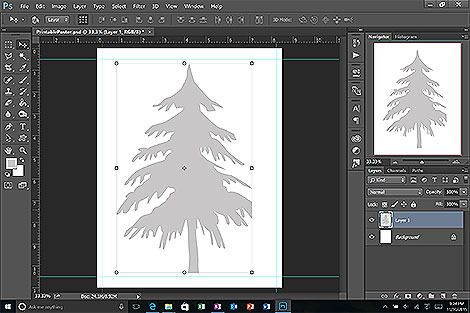 It's a little shaggy, but it gives me a great space to work with.
Click down with the mouse and drag to the desired shape, being sure to hold the SHIFT key to keep it proportionate. I changed the color to a lighter gray because I simply wanted it to be a guide. Not a dictator.
Then I started loading in elements from the kit … word tabs, stickers, letters …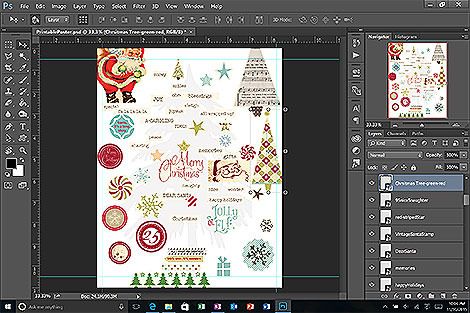 There was lots there! Too much, in fact. This was the point I asked my Wordsmith Husband to craft a message to Santa using all those words.
He immediately said, "You know there's way too many words, right?"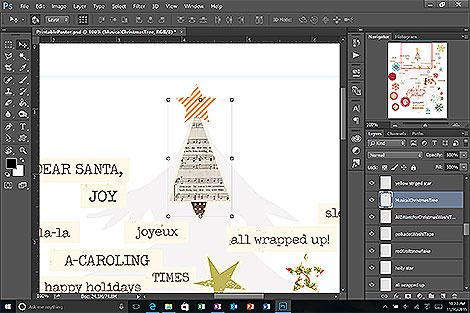 Of course, I did and started deleting word tabs and bringing in a few letters from the blue Alpha in the kit. All in all, I only used five of the many word tabs and felt a little sad about that because they were all so wonderful. But I love the "jolly ol' Elf" and the "All I want for Christmas" stickers so they stayed!
I knew I wanted to use the music-patterned tree at the top, and top it with a gold star so I got that in, used the "Dear Santa" word tab to get the top of the tree started with a message to Santa, then loaded in other elements, and made "Merry Christmas" the front and center message at the bottom. Santa's vintage shape with his pack of toys was perfect for the bottom left of the tree!
After that it was simply a matter of arranging words, shapes, and colors to write a quick message to Santa and make a visually pleasing collage. It took a little tweaking here and there, but in the end, I was pleased … especially after putting this dark paper behind it! It just pops off the paper!
"Dear Santa, You're a jolly ol' Elf. All I want for Christmas is peace, joy, blessings & smiles & memories. Merry Christmas."
Isn't this a wonderfully whimsical way to shape a Christmas tree and feel the holiday spirit? Wishing you and yours the best this season has to offer!
Click the link below to download your FREE PRINT QUALITY file.