When asked if I've ever been to San Francisco, I can say a definite "yes". But short of stopping just outside the city to take this photograph at the Golden Gate (that is red rather than golden) ...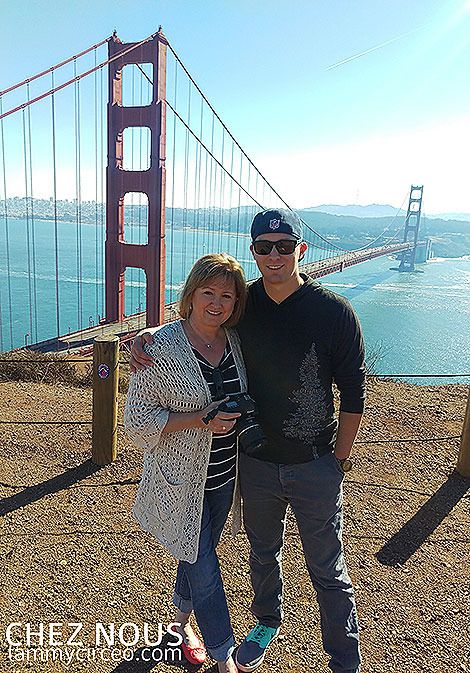 ... I've only driven through the city. Across the Bay Bridge to Berkley ... to eat at Chez Panisse.
Chez Panisse was started in 1971 by the indomitable Alice Waters in an attempt to find and serve the best-tasting, local, organic foods available. She could be considered one of the pioneers of what is commonly referred to as a California cuisine, healthy eating, and "going green". In her book 40 Years of Chez Panisse: The Power of Gathering, Alice says that the intent was to offer "the simple good food of Provence, the atmosphere of tolerant camaraderie and great lifelong friendships ... to recreate an ideal reality where life was lived close to the land, where food was produced by people who were sustained by each other and by the earth itself, where life and work were inseparable, and where the daily pace left time for an afternoon anisette or a restorative game of petanque."
A description like that is so inviting and convivial ... simply attractive.
So across the Bay Bridge we went. The weather was just right. The sun was bright, but low. And the air was just breezy enough to keep us comfortable ... not warm and not chilly. Perfect.
We searched for a parking spot and finally found one a few blocks away, allowing us time to size up the neighborhood and enjoy the weather as we walked to the restaurant.
We passed other eateries and I smiled to myself anticipating the experience I was headed for. The bungalow set back from the street was not what I imagined, but it fits exactly with Alice Waters' purpose. It's a bungalow, once a family's home, whose rooms have been turned into kitchens and dining rooms, enjoyed by chefs and diners alike. I wonder if the family who built the home knows the journey it has traveled.
The Restaurant downstairs is only for dinners and the café upstairs is for lunch and dinner. Upon arrival at the top of the stairs, we looked to our right and saw a beautiful copper bar.
We checked in and sat at a small bistro table till our reserved table was ready. Our reserved table was at the front of the house on the second floor in a small room with three other tables. The sun poured through the stained glass and the breeze was pleasant through the cracked windows.
The menus are printed for each day as they vary with the produce and meats available from local farmers.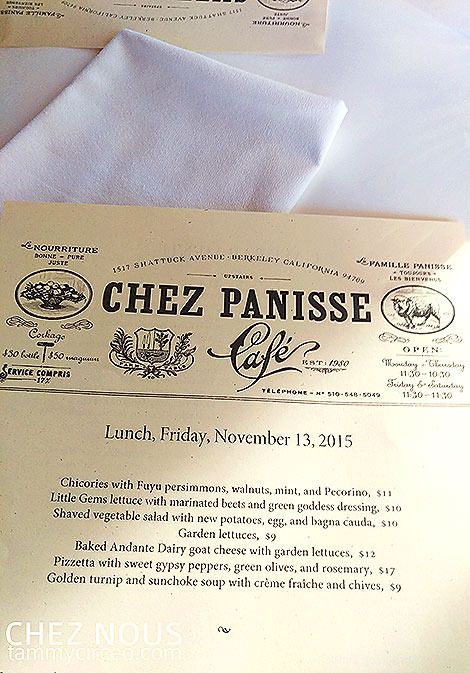 We started our lunch with Chicories with Fuyu persimmons, walnuts, mint, and Pecorino and a Pizetta with sweet gypsy peppers, green olives, and rosemary.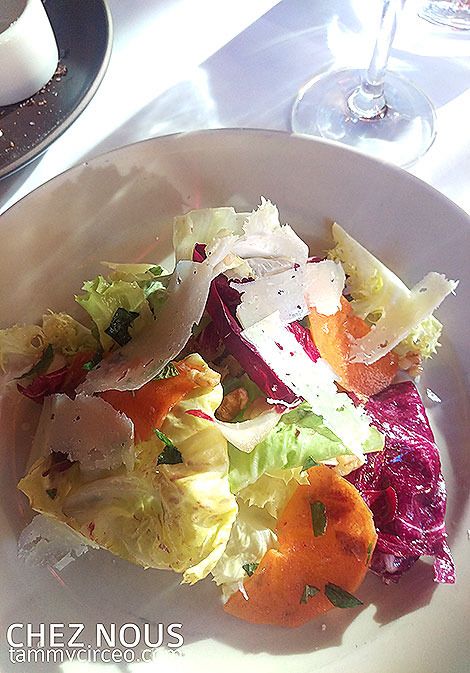 Ken ordered house-made rigatoni with chanterelle mushroom ragu, Parmesan, and gremolata ...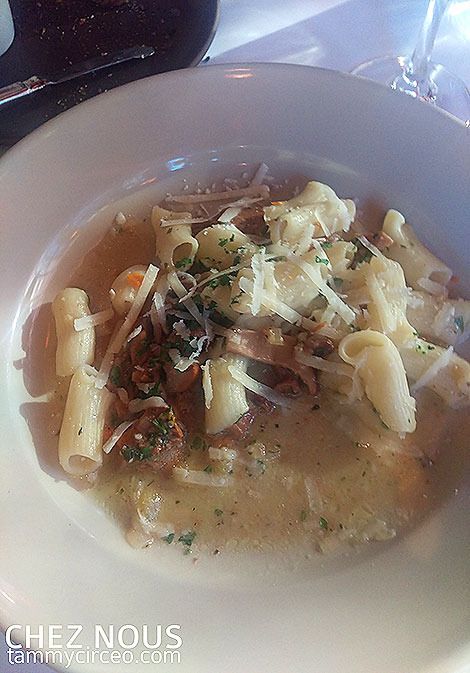 Ben ordered the fish and shellfish stew cooked in the wood oven with fennel, saffron, garlic toast, and aioli ...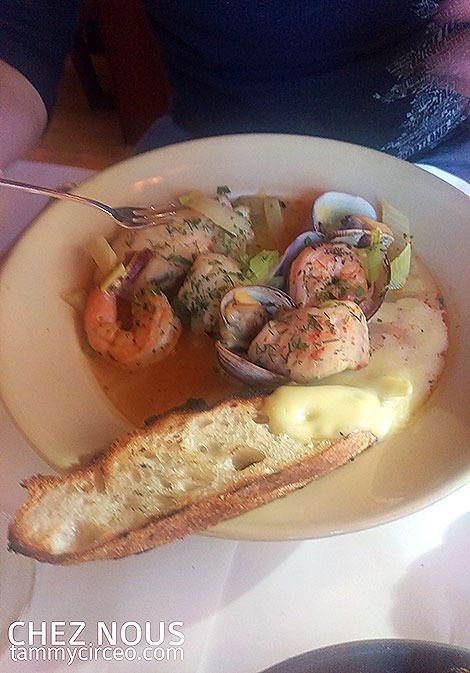 And I ordered the grilled Llano Seco Ranch pork sausages with braised red cabbage, shoestring potatoes, and horseradish ...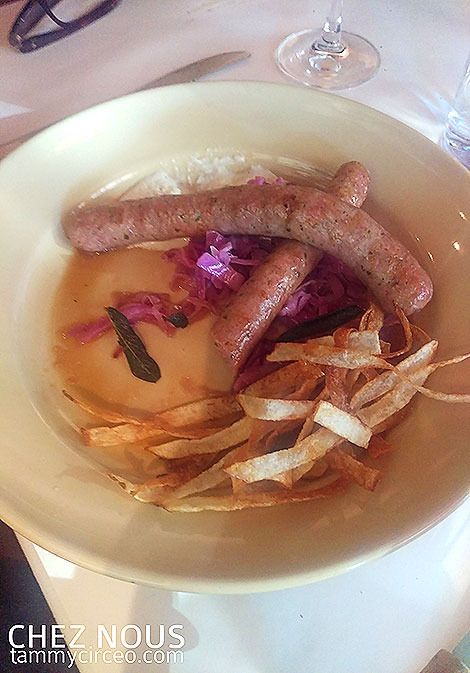 We sampled each others' plates and wished we had room to order one of everything to sample! Each ingredient had a purpose and made each dish completely satisfying.
We often don't order dessert when we eat out, but I wanted the full experience of this meal so we ordered Pink Lady apple and sour cherry galette with vanilla ice cream ...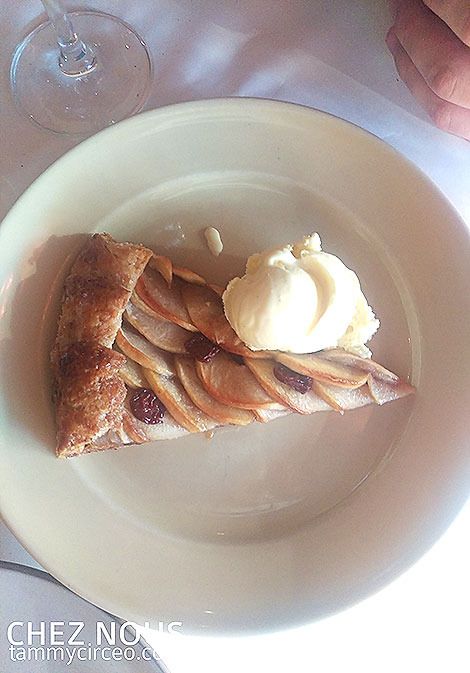 ... and chocolate custard with hazelnut ossi dei morti ...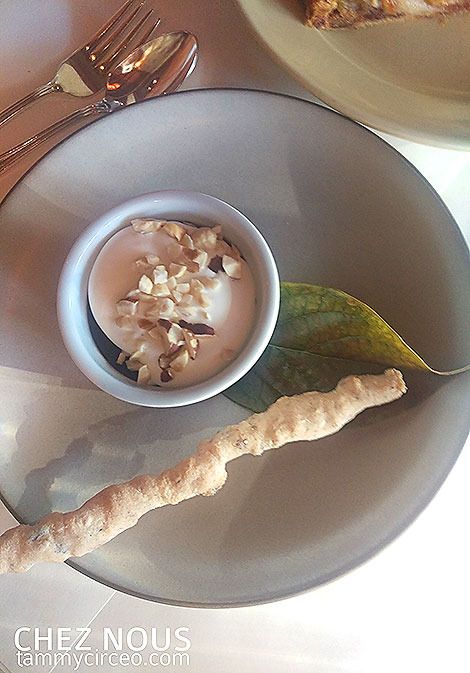 We thought the chocolate custard would be the favored dessert, but it was the apple galette that us all ooh-ing and ah-ing. It was delicious.
Short of experiencing the results of your own dreams and hard work paying off, there are few things as gratifying as experiencing someone else's. And that's what dining at Chez Panisse felt like. Alice's dream of local, sustainable food, skilled chefs and cooks in the kitchen, and creating an inviting location was my reality for a beautiful, sun-soaked afternoon.
{Affiliate links are included in this post.}